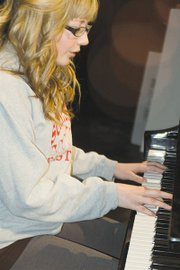 When someone's life is near its end, Hospice volunteers and employees rush to the family's aid and care.
To show their gratitude, young area performers are gearing up for the annual Hospice Talent Show set for next Friday, March 16.
Nearly 17 acts are preparing to perform in the SHS auditorium beginning at 6:30 p.m. to help raise funds for the Lower Valley Hospice Heartlinks Service.
Student leaders at SHS believe the Lower Valley Hospice organization is one that gives quality work and is deserving of community support. All proceeds earned at the event will be donated to the local Hospice group.
Performers range from ages 12 to 18 and auditions were open to the entire public.
Admission is $5 and attendees will have the chance to win door prizes from area sponsors of the event.
For more information, contact SHS at 837-2601.