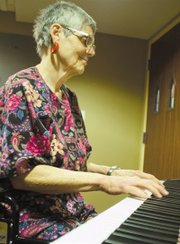 When Elizabeth Jacobs plays the piano, a feeling of peace settles in her soul and joy begins to arise.
She's been playing the piano for as long as she can remember.
"I started playing at a very young age," she said.
When Sunnyside's Smith Funeral Home donated an electric keyboard to Sunnyside's Eagle Rehabilitation, the 79-year-old, a patient at the facility, was struck with joy.
Jacobs says she's been playing the newly donated keyboard since its arrival two weeks ago. She added it completes the chapel's ambiance and the music draws a crowd of interested onlookers.
The Smith family at the local funeral home decided it was time to give back to the rehabilitation facility after their 33-year-old daughter Heather Smith passed away nearly one year ago.
"It's in memory of Heather," said her brother, Grant Smith.
The siblings often visited Eagle Rehabilitation (formerly known as Hillcrest Manor) during Christmas time dressed as Santa Claus and an elf. Smith says the family knew that the facility had a need for a keyboard and they wanted to do something for the facility in honor of his sister.
"We've had a special connection with the people over there for a long time," he added.
Eagle Rehabilitation Administrator Mary Arthur and Jacobs agree the donation is appreciated by both staff and patients at the facility.
"It's a much appreciated gift," said Jacobs.
"It sounds beautiful too," added Arthur.