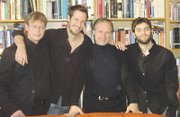 The Indigo Ensemble, a quartet consisting of violin, guitar, bass and piano, will perform at Sunnyside High School this coming Sunday afternoon, March 11, at 3 p.m.
The Indigo Ensemble performs classical chamber music, but with a non-traditional instrumentation.
The aural possibilities of the group are enhanced by the fact that all the musicians play multiple instruments.
The group's instrumentation is nontraditional and their repertoire ranges from Duke Ellington to Jimi Hendrix, Astor Piazzolla and Hugo Blanco. The ensemble's singular goal is to create intimate and exciting music without borders, connecting with each other and the audience.
The group is based in Berlin, Germany, and first toured in the United States in 2010.
Stefan Licheri, was born in Caracas, Venezuela in 1984, and he studied with Leopoldo Igarza in the Jose Angel Lamas conservatory and then in Lyon, France, with Eric Franceries.
Currently, Licheri is studying with Ricardo Gallen in the Musikhochschule Franz Liszt, in Weimar, Germany.
Licheri has performed in the United States, France, Germany and Venezuela as a soloist and in chamber music ensembles.
A pupil of Ruggiero Ricci and Salvatore Accardo, Marcello Defant plays a magnificent violin made by Nicola Amati, dated 1725.
Since his first public performance at the age of 15, Defant has performed as a soloist and chamber musician in a career that is renowned for its virtuosity and inexhaustible eclecticism.
He travels extensively as a performer and teacher. His travels have taken him to China, the United States, France, Spain and Italy. He has also performed in Turkey, Japan, Mexico, South America, Africa, England, Portugal, Germany and the Netherlands. Beyond his frequent collaborations as concertmaster with orchestras in Milan and Venice, he is currently musical director of the Officina de li Affetti in Italy.
He also holds the position of first violin and is co-founder of the "European Music Project" ensemble.
Defant is a solo recording artist on the Phoenix Classics label.
Double bassist Peter Nelson is originally from South Carolina, but he has lived in Germany for the last 24 years.
As of last year, he has lived longer in Germany than in the United States
In addition to being principal bassist of the Thuringian Philharmonic, Nelson is an active chamber musician and teacher. He also loves to jam on electric bass in multiple styles in the clubs of Leipzig, Germany.
In years past, Nelson was touring throughout the United States with a group called the The ringer Salonquintett.
Rafael de Torres, pianist extraordinaire, is originally from Granada, Spain. He now lives and works as a concert pianist in Weimar, Germany, home to some great composers like Goethe, Schiller, Bach and Liszt.
Chamber music is his passion, and he demonstrates his love of music on any keyed instrument.
Though recently founded, the members of the Indigo Ensemble have been collaborating with one another throughout Germany for many years. What started as sporadic musical encounters evolved into an eager exploration of world chamber music with four committed friends who share one huge common denominator...to make intimate, fun, exciting music without borders, always searching and reaching to connect with each other and the audience.
This is the third concert in the 2011-12 Lower Valley Community Concerts' 65th season, with one more concert in May.
The Chris Jácome Flamency Ensemble will perform on Tuesday, May 8, at 7:30 p.m., at Sunnyside High School.
Adult season subscriptions for the entire LVCA season cost $50, and a family season subscription for two adults and two students costs $105. Student subscriptions are $15, and students up to 18 years of age may attend one performance for $5.
Without an annual subscription, adults may attend an individual performance for $30.
For more information, call Liz Donaldson in Prosser at 509-786-3070; Jean Corliss in Grandview at 509-882-1668; Barbara Skinner in Sunnyside at 509-839-5222, or Carlina & Jorge Lobos in Zillah at 509-829-6596 (also in Spanish).