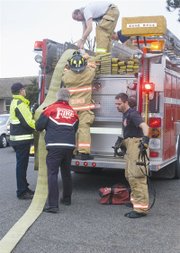 Sunnyside firemen were notified by the local police of smoke coming from a home on Roosevelt Court this morning (Monday) at approximately 8:30 a.m.
Firemen arrived to the 1200 block of Roosevelt Court finding light smoke coming from a home. Officials noticed the home appeared to be boarded up, and the power was shut off.
"But somebody started the fire," said Sunnyside Fire Chief Aaron Markham.
Officials are still investigating the cause, but say the home didn't suffer much damage.
Firefighters have also responded to 12 calls for aid since last Thursday. Of the calls for aid, six people were transported to Sunnyside Community Hospital. Of the patients at the hospital, six were transferred to other area facilities.
In addition, throughout the weekend firefighters responded to a call reporting smoke, an electrical problem and a citizen assistance request.