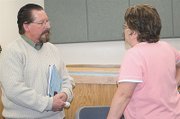 Many citizens were displeased with the Sunnyside City Council last night because of its decision to approve a contract with former City of Selah Supervisor Frank Sweet, who begins serving as interim city manager today.
The decision to approve the contract was split 4-2, with Councilwoman Theresa Hancock and Councilman Nick Paulakis dissenting. In favor of the contract were Councilmen Jim Restucci, Don Vlieger, Jason Raines and Mayor Mike Farmer. Councilman Craig Hicks was absent from the meeting.
Sweet will be paid just more than $8,000 per month for serving as interim city manager.
Citizens present at the council meeting last night spoke out, some stating they believe the council should have made the decision to retain City Manager Mark Gervasi until his permanent replacement can be found.
John Rodriguez questioned the council's decision to hire Street. He said, "Why go out of town when we have two local individuals interested?"
Mayor Mike Farmer engaged in a brief discussion, stating the council decided not to retain Gervasi because Gervasi submitted a resignation.
Hancock said she, too, believes the decision to hire Sweet was hasty.
"We haven't even vetted him," she said.
Rodriguez said he believed the council was making a decision contrary to the wishes of citizens.
"It seems you are doing what you want, not the will of the people," the former Sunnyside police officer said.
Farmer said, "We chose the person we felt was most qualified."
Former Councilwoman Bengie Aguilar said she believes the city council members approving the hiring of Sweet are being irresponsible. She said the decision to hire Sweet could be more costly than it would have been had the council decided to retain Gervasi.
"It's very confusing why you are willing to hire an outside individual when he's (Gervasi) willing to stay on," she said, adding, "It would be less expensive (to keep Gervasi)."
Aguilar said there have been many changes at the upper levels of city hall with seven city managers and nearly as many finance directors in a short span of time.
"You're getting into the jobs of staff," she said, stating she believes the council doesn't allow city staff to conduct its business without interference. Aguilar said she believes that is why the city has had a high turnover rate.
Pete Sartin spoke to the council, stating he believes the city council has been ignoring the public.
"Ninety-seven percent of the public don't attend council meetings because they don't believe you listen to them," he said.
Kari Zapata urged the council to slow down in the decision to hire Sweet.
She said the council needs to take the citizens' wishes into account and think about what it is doing.
"When the community is complaining, you need to think about the choices that benefit the entire community," said Zapata.
There were comments from citizens who supported the council's decision.
Robert Van Billiard, who last year campaigned unsuccessfully against Councilman Jim Restucci, said, "One thing people fail to realize is Mr. Gervasi resigned without a gun to his head...I don't know much about Sweet but (council) apparently feels it can trust him."
Van Billiard said the citizens should stand behind the council's decisions.
Greg Flocchini agreed, stating, "I don't believe you (council) need to slow down."
He said he believes decisions must be quick and precise, eliminating staff members whom he believes are responsible for the city's problems.
Flocchini said he voted for the council member who chooses to be a teacher and the former law enforcement officer (Jason Raines and Don Vlieger) and approves of their decisions.
He said he believes it's time to "...get this riff-raff out."
Jerry Herman said he is ready to see Gervasi leave the city manager's office. He complained about a water bill issue that resulted from a leaking spigot while he was in the hospital for a month, and said he attempted to meet with Gervasi on several occasions. He said he never was provided the opportunity to meet with Gervasi and he is glad to see the city manager leave.
"I think I have a legitimate right to be happy that man is leaving and I hope the next city manager listens," said Herman.
The comments from the citizens lasted approximately one hour, but in the end, the council made its decision to move forward with approving Sweet's contract.
Restucci said he approved the contract with Sweet because not approving the contract would only cause a delay in the process.
He said, "The selection has already been made...it's obvious this council doesn't want to keep Mr. Gervasi and wishes to move on."
Paulakis and Hancock were the only two council members that did not approve the hiring of Sweet last week. The pair stood by their decision and said they could not support the approval of his contract last night because they believe the decision was rushed.
"We also failed to run a background check," said Hancock.
Gervasi will remain at city hall as a consultant until his final day on April 6.