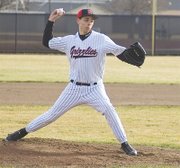 In its first regulation game of the 2012 season, the Sunnyside Grizzly baseball team fell 11-3 yesterday, Tuesday, to visiting Riverview.
The tone of Sunnyside's non-league loss was set in the first inning, when the Panthers scored three runs without a hit and Sunnyside failed to score despite slapping three hits.
Riverview coaxed five walks and a hit batter off of Grizzly pitching in the opening stanza. A third run was plated in the inning when the Panthers scored on a groundout.
Sunnyside looked set to answer in its half of the first inning with two singles sandwiched around a Julian Rivera double. Unfortunately the first Grizzly base runner was picked off at first base for the second out of the inning.
Following that out, Joel Ortega smacked a single and Rivera doubled to put runners at second and third with two outs. Sunnyside couldn't capitalize, though, and recorded the third out to strand the runners on base.
The Panthers built on their lead with single runs in the second and third innings to go up 5-0.
The Grizzlies answered with a run in the bottom of the third when Ortega singled home a run.
Riverview put the game away, though, with two runs in the fourth and three in the fifth to go up 10-1. In the home half of the fifth frame, Tim Martinez delivered a clutch double to score a run.
Scoring for the contest closed out in the sixth inning when Riverview plated a run in the top half of the frame and Martinez came up with his second hit and RBI of the game for Sunnyside in the bottom of the frame.
Grizzly Coach Terry Shines said the control problems atop the mound were in part due to the fact it is early in the season. "We're starting to get into some serious workouts, we're just missing our spots," he said.
Taking the mound for Sunnyside yesterday were pitchers Kevin Lee, Ortega, Jeremy Rodriguez and Ricky Palomarez.
Sunnyside, 0-1, hosts Chiawana this Friday at 4 p.m.