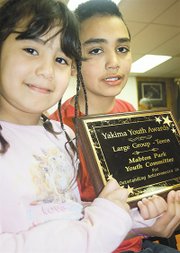 MABTON - A group of Mabton youths have been rewarded for a project they've been working on for more than a year.
The group was recognized for their achievements last week and at this past Tuesday night's city council meeting.
In November 2010, a group of local students got together to advocate for the construction of a park in the city, complete with a skate park and other activities for the community to enjoy.
Last week the Mabton Park Youth Committee was invited to the Yakima Youth Awards ceremony as they were nominated for an award in the "large groups" category.
Each year the ceremony is held to recognize the Yakima Valley's youth for making positive contributions to their communities.
During the presentation, the group of Mabton children were surprised to be called to the stage. They received a plaque for outstanding achievements in their community.
"It was such an honor for these kids to receive this award," said Laura Armstrong of the Catholic Charities Housing Services.
Mabton Mayor Angel Reyna agrees, "It's deserved to see youth in the papers for something positive.
"We are very proud of you," he said to the local students who attended Tuesday's meeting.
The students and other adults on the park committee are set to host a Mabton Community Park construction weekend on Friday and Saturday, March 30-31.
The group and local volunteers will be laying the first round of sod in a project that has been a long time coming for area youths. The group is still raising money for the park, and will continue to do so until the project is complete.