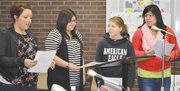 GRANDVIEW - The Grandview City Council did not have a quorum last night. Therefore no action was taken on any agenda items.
However, members of the Yakima Valley Community College Grandview campus provided a presentation regarding the many community events it has sponsored since last fall.
Speaking to the Grandview City Council were Stephanie Sanchez, Mariah Coronado, Estefania Flores and Jenessa Hoffard.
The group told the council it is planning future events due to the success of its past community events, many of which were fundraisers for other organizations.
One such event, an interactive presentation by Massive Monkees, had an attendance of approximately 360 community members, said Sanchez.
She said the fundraiser benefited the Xtra Mile Student Center in Grandview, Sunnyside's Promise and other nearby communities.
Coronado said "Movie in the Park," the student council's first of many events last fall, was highly popular. Because of the popularity of that event, the council is planning another movie at Grandview's Country Park amphitheatre on May 18 of this year.
"We also had the opportunity to coordinate the Grandview Library grand opening," Coronado said, stating that event provided the student council members the opportunity to interact with community members.
Sanchez said the student council followed up on the library's grand opening with another aimed at children.
The YVCC Grandview campus student body has also held a food drive that benefited the Grandview food bank, as well as Lower Valley Crisis and Support Services in Sunnyside.
"We've been busy," said Sanchez, moving on to other community events that have helped the student council raise funds for organizations like the Grandview VFW. She said the student council has organized a chili feed, a cocoa and carols Christmas gathering, a taco feed and a blood drive.
Grandview City Councilwoman Diana Jennings works at the college. She said, "This group has been really busy...it's amazing all they have accomplished."
The student council members said they are planning to get involved in a second "Clean a Park Day" like one they held during Random Acts of Kindness Week. They also plan to raise awareness for the organ donation program, Donate Life, during an event they are calling "Spring Bash" on May 12.