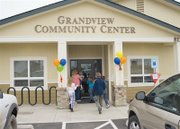 GRANDVIEW - Community members in Grandview were treated to a celebration yesterday during a ribbon cutting and grand opening of its new community center.
There were several speakers, musical entertainment and refreshments for all to enjoy.
The ceremony opened in the gymnasium at the newly constructed facility.
Grandview Parks and Recreation Director Mike Carpenter provided the introductions.
He said the community center was made possible through many partnerships, including the help of Parks and Recreation Deputy Director Gretchen Chronis.
Mayor Norm Childress, too, credited the community and its partners for coming together to make the community center a reality.
Noting all the city has accomplished and the many projects it has planned for the near future, he said, "We're not done."
Jack Peters, director of the regional HUD office, was next to speak. He said he typically works with larger cities because of his involvement with urban development projects.
HUD provided the city of Grandview with a community development block grant that was the funding source for much of the community center's construction.
"Smaller community projects are managed through the state and I have to have a great partnership with Olympia," said Peters, stating the partnership between HUD and Grandview is one he was excited about.
"The community center is a dream for Grandview," said Peters, adding the newly constructed facility offers many new possibilities for the community.
Grandview Community Center Advisory Committee Chairperson Nancy Davidson told the crowd gathered for the grand opening she is excited to see the end product of what was a lot of work and "community spirit."
She said the two individuals whose names are on one wing of the center, Carl Stevens and George Young, "...would be proud.
"Your actions are characteristic of a welcoming community."
Sheri Brockway of Brockway, Opfer, Raab Architecture, PLLC in Yakima helped with the design of the facility. It was just one more recent project in the community her firm assisted with, but she said she feels attached to it.
"We all looked at what this could be...we hoped the budget would allow everything we were looking to achieve," she told those gathered.
"We really take our projects to heart...what I envisioned was the (youth) coming in, having a good, safe time...I believe that is possible with this center," said Brockway.
Carpenter shared a few more words, recognizing the community's willingness to support the project.
A ribbon cutting commenced directly after.