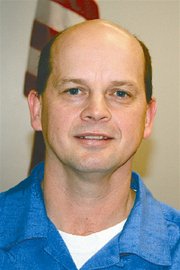 Sunnyside School Board Director Rocky Simmons has settled with the United States Attorney's Office in the amount of $11,000 for allegedly accepting kickbacks from a supplier while working for Fluor, a contractor at Hanford.
Simmons denies the charges, which consist of directing business paid for by the United States to Fast Pipe and Supply and accepting gifts from the vendor while working as a material coordinator for Fluor.
"Everything I did was pre-approved by management," said Simmons. "I never received anything as a freebie."
According to the settlement document, in November of 2005 Simmons made purchases from Fast Pipe and Supply worth $12,553.53 using a government purchase credit card and accepted a kickback in the form of a $100 gift card to Outback Steakhouse.
The document also states that in February of 2006 Simmons made $3,777.31 worth of purchases in the same manner and received a kickback in the form of at least two sporting event tickets with an approximate value of $595.
The document alleges that Simmons made the purchases despite having been trained in Fluor's company rules that prohibited the actions.
The Department of Energy, the agency responsible for the government purchase credit cards, stated in the settlement document that it would not have approved any of the purchases if it had known of the kickbacks.
The document also states that the settlement was reached to avoid the delay, uncertainty, inconvenience and expense of the litigation of the claims.
"Litigation would have resulted in a different outcome," said Simmons. "But it would have taken a long time and cost us twice as much."
In June of last year, Fluor settled with the Department of Justice for $4 million for fraud involving government purchase credit cards and kickbacks, without admitting guilt. In that settlement, 20 employees of Fluor, including Simmons, were specifically named as not being released from future prosecution.
The employees of Fluor listed as having participated in the fraudulent schemes were Gregory Detloff, Paul Kempf, Susanna Zuniga, Pedro Alvarado Jr., Tommy Honeycutt, Denise Buel, Tony Dixon, Michael Haggerty, Amy Hall, Patti Hall, Pat Sparks, Alicia Woodrich, Harry Betz, John Williams, Tim Hendricks, Mike Stone, Rocky Simmons, Janie Krasner, Bobby Sue Betz and Armando Garcia.
The government has been settling with the employees individually for their actions in the alleged fraud.