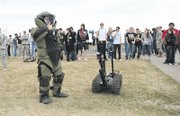 ZILLAH - After working with robot kits for the past six weeks, 46 teams from 14 different schools arrived at Zillah High School last Saturday, March 10, to compete at the Zillah Robot Challenge in three different robotic events.
Four teams from Sunnyside High School competed at the event. In recent robot competitions SHS students have made their mark. But this year just one team earned a top-10 ranking in Zillah.
The first event was the "sumo-bot" in which two opposing robots tried pushing the other out of a center ring. This competition was won by team "Vulcan" from Zillah High School. Sunnyside's "Something" earned fourth place honors during this competition.
The next event, won by Pasco High School's "Purple Pride," was titled "line following with intersections."
Students programmed the robots to navigate along a black line around a series of four courses, each more complex than the previous.
Finally, the bonus round capped the day's events. While students knew about the first two events back in February, the bonus round was not announced until 2:30 p.m. on the day of the competition.
The bonus round required students to program robots to remove several objects from sumo mats while making sure that their robot did not leave the mat.
The bonus round was won by team "Vulcan" from Zillah High School.
Scores for all three events were combined to declare overall winners for the day.
In third place was Pasco High School's "Purple Pride" team. Second place honors went to "Cyber Syndicate" from Tri-Tech. The champion of the Zillah High School Robot Challenge was team "Vulcan" from Zillah High School.
Another big part of the Zillah Robot Challenge was the keynote address given by members of the 53rd Explosives Ordinance Disposal Unit from the Yakima Training Center.
Sgt. Sean Thomas, along with 11 members of his unit, demonstrated several of their unit's bomb robots. The presentation began with a video presentation followed by a hands-on opportunity for students to operate the equipment.
Students were also given the opportunity to try on bomb suits that are worn by soldiers. Sgt. Thomas and his unit also helped throughout the day as judges of the robot competition.
In all, more than 130 students from throughout Central Washington took part in the eighth Zillah Robot Challenge. Schools involved in the Zillah Robot Challenge included Bickleton, Chiawana, Columbia-Burbank, Eisenhower, LaSalle, Pasco, Prosser, Royal, Sunnyside, Sunnyside Christian, Tri-Tech, White Swan and Zillah.
The next Zillah High School Robot Challenge for high schools will be held in December 2012. Applications for schools to participate will be available in early September at www.zillahrobotchallenge.com. The challenge is open and free of charge to all schools; public, private, alternative and home schools.
The Zillah Robot Challenge also offers a middle school challenge for seventh and eighth grade students. That challenge will be held on Thursday, March 22, in the Zillah High School gymnasium. Currently 15 school districts and more than 45 teams are registered for the middle school challenge. The middle school challenges are also free to all participating schools.
For more information, contact Zillah High School science teacher Jeff Charbonneau at 509-829-5565.