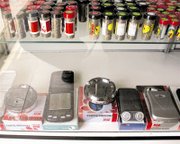 After a lengthy undercover operation conducted by detectives, four Sunnyside convenience stores were yesterday served with search warrants for allegedly selling "Spice," also known as synthetic marijuana.
The search warrants were executed at Park N Pak at 905 E. Lincoln Ave., 16th Street Market at 1121 S. 16th St., Lincoln Market at 1517 E. Lincoln Ave., and Minute Mart and Smoke Shop at 301 S. 13th St.
Law enforcement officials initially targeted 10 convenience stores in the undercover investigation, but only four were raided by officers on Wednesday.
Officers say they recovered 700 packets of synthetic marijuana, more than 300 marijuana and methamphetamine smoking pipes, and drug packaging materials during the operation. The street value of the combined materials is estimated at more than $17,000.
Packages of "Spice" are retail valued at a cost of between $10 and $20 each. Police say the paraphernalia ranges in value from $5 to $10 for each item.
"Both Spice and paraphernalia are illegal in the city of Sunnyside," said authorities.
The synthetic marijuana is a schedule 1 controlled substance and the sales of the substance are a violation of state law, according to local officials.
The sale of a schedule 1 narcotic is a class C felony, subject to up to five years in prison and/or up to $10,000 restitution.
Sunnyside police say all charges against the owners of the four local convenience stores have been forwarded to the Yakima County Prosecutor's Office for review. Additional penalties may be added, said police, because the markets are in school zones.
Assisting Sunnyside police with the operation were members of the LEAD Task Force, Grandview Police Department, Yakima County Sheriff's Office and the Yakima County Prosecutor's Office.