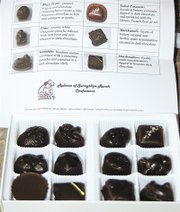 The Nouvella Club of Sunnyside got a rich taste of chocolate at Thursday's noon luncheon meeting after a sumptuous African-themed lunch supplied by Snipes Mountain Brewery and Restaurant chef Dick Denson.
The guest speaker was Rebecca Hunt of Sunnyslope Ranch in Wapato, who makes chocolate confections and gave the ladies of the club a lesson in chocolate making along with some samples.
Hunt got her start in chocolate-making in a roundabout way. She and her husband retired from their jobs in quality assurance and research and development in California to an organic orchard in Wapato.
"My husband's biggest fear was that I would be bored after working in research," said Hunt. "I just set up a lab in my kitchen, which was better because I could eat my mistakes."
She tried different experiments with food, including drying cherries. At one point, noticing they had an abundance of cherries, Hunt decided to try making chocolates with the cherries.
The results were good, and she sent some to friends as gifts. The friends then wanted to buy chocolates from her, and she obliged. Eventually she had to move her chocolate kitchen to another building on the property.
"Once we had the building fixed up and moved my equipment, I didn't have to clean everything up to make dinner anymore," said Hunt.
To demonstrate chocolate making, Hunt started with an overview of the history of chocolate.
She noted that most of the chocolate we eat today is grown in Africa, tying her presentation into the theme of the luncheon.
Hunt, assisted by her mother, handed out small bags with samples of four basic chocolates, and had the ladies eat each one as she explained how the chocolates are classified by the percentages of cocoa butter and chocolate liquor in each sample.
She said she buys chips of the different chocolate types, white chocolate, milk chocolate, semi-sweet chocolate and dark chocolate, in 22 pound bags to temper for use in her confections. Tempering chocolate is the act of melting and cooling it to use as a coating or topping. Proper tempering also gives chocolate the crisp snap familiar to people who eat chocolate bars.
Hunt brought a small tempering machine to the meeting, explaining that she uses a much bigger and less mobile machine now, but still uses the small machine to prepare toppings.
She then described how a person can either enrobe chocolate by dipping them freehand or use a mold to shape chocolates. She uses both methods and showed a mold and two different shapes of dipping forks. She also uses standard cake decorating tips and squeeze bottles for decorating and finishing the chocolates.
Hunt passed out samples of two of her chocolates, a salted caramel and a peanut butter cup, for the ladies to enjoy. At the end of the meeting she offered more information and gave her e-mail to attendees.
For those interested in organic produce, Hunt's website is at www.sunnysloperanch.com.