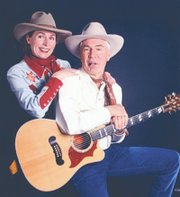 BICKLETON - Nevada Slim and Cimarron Sue, "Minstrels of the Old West," will be performing at the Bickleton Grange Hall on Sunday, March 25, starting at 5 p.m.
The event will be raising money through donations for the Carousel Museum, and will include a baked potato dinner.
Slim and Sue bring the songs and stories of the America West to audiences, drawing from a large repertoire of songs and cowboy poetry.
In 2010, the duo was among the top five finalists for Western Music Association awards in Best Duo, Traditional Western Album of the Year for their release "Westerners" and the Crescendo award for progress in the cowboy music industry.