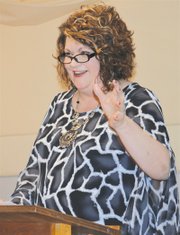 PROSSER - Diana Larson has been drawn to music for much of her life. She found it has provided her a purpose.
However, that purpose was not completely fulfilling until the Lower Valley Christian Women's Connection guest speaker found a relationship with Jesus Christ. Larson was the speaker at this month's meeting in Prosser earlier this week.
She said she first discovered her love for music at the age of eight. That's when her family began experiencing a great deal of struggles.
Larson's infant brother died of sudden infant death syndrome and her parents spiraled into depression and alcohol addiction.
"I remember many events of that time," she said, stating she didn't fully comprehend everything that was happening around her.
Larson said her parents blamed each other for the death of their 4-month-old son and exchanged "angry words." It was frightening for the, then, 8-year-old girl.
The family began to attend church, searching for comfort, but Larson's parents continued to struggle. Her father, who had been a "weekend drinker," was drinking more and her mother suffered a deep depression.
Larson said church helped her struggle with her own feelings, providing her some level of comfort as she learned about God's love.
"Music, especially songs about God, fascinated me," she said.
After a few years, the family moved and Larson began pursuing her passion for music.
She said her father's drinking continued to frighten her and she became driven.
"I remember he was passed out one day and I feared he was dead," Larson said of her father's problem with alcohol. She said he had violent tendencies, as well.
It was in high school that Larson found a role model, her choir teacher. She said the teacher encouraged her pursuit of music.
"I didn't think about God much," Larson admitted, stating her life was filled with thoughts of music, boys and other activities.
The music and other activities seemingly helped Larson's parents, giving them a purpose.
But, it wasn't enough for the young Larson. She still didn't feel completely fulfilled, although she was accepted as a member of the Oregon Symphony at the age of 19.
She said it was her senior year when she decided to visit a neighborhood church. It was there that Larson met Christ for the first time.
She said she visited and talked with the pastor. He encouraged her by teaching her there was more to God than what she knew from her childhood.
The pastor taught Larson she had a friend in Jesus. "He said everyone sins and wants to live by their own rules and standards," she said.
"The gift of God is eternal life in Christ Jesus," Larson shared.
She said she remembers the day she accepted the relationship with Christ more clearly than her childhood.
Larson learned that nothing she could do, "my works," would get her to heaven.
On that day, she said a prayer that led to a newfound hope and love unlike any other. She began to feel a sense of acceptance and her fears began to recede.
"I felt I had a father I could depend on," said Larson, stating her singing became about pleasure instead of applause.
"Although my childhood had its share of sorrows, the answer was the same for me as it is for you," she said, stating anyone can find fulfillment through a relationship with Christ.
Her father, Larson said, has also recommitted his life to the Lord and has been sober since she turned 30-years-old.
"My anxieties and fears occasionally arise, but I know if I am in line with God everything will be okay," she said.