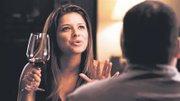 Granger native Rick Castaneda was born and raised in the Yakima Valley. "...but It wasn't until I moved away that I really began to notice how unique (the valley) was," he said.
When he returned home from Los Angeles to make a movie, he says he was welcomed with open arms.
"I wanted to make a movie in the Yakima Valley," said the independent filmmaker. "I wanted to make a movie about a place most people have never seen before, in a place where people still get excited about movies."
When Castaneda and his crew arrived to the valley last summer, they scouted out places to shoot the movie, titled Cement Suitcase, and began recruiting set crew help and actors for large and small parts.
Local scenes recognizable in the film include Prosser's Airfield Estates winery, the Zillah Food Center and many locations throughout the Lower Valley, including a scene shot on the side of Yakima Valley HighwayiHigh.
"When we were shooting the scene on the highway, an officer came by to make sure someone wasn't hurt," Castaneda said.
Castaneda found several lead actors, but there was one he just knew he had to ask, Kristina Guerrero.
Castaneda and Guerrero had met before. Though he was a Granger High School graduate, Castaneda and Guerrero attended classes together at Sunnyside High School. After school, Guerrero went on to work as a correspondent for E! Entertainment based in LA.
She accepted the chance to be one of the film's main characters and to return home for a few days.
The film is set in the Lower Valley and the main character is a local winemaker, Franklin, played by Dwayne Bartholomew.
Castaneda, who wrote and directed the movie, says the story is about the main character finding himself and becoming happy again.
The movie is nearly complete. But as all independent filmmakers can attest, making a movie costs money.
"It costs money to enter the film into film festivals," Castaneda said.
He also says that once the film is entered into the festivals, they have to work on promotion to fill the seats at the event.
"Just because you make it into the film festival doesn't mean you're going to have a full audience," he added.
The team is working to raise $12,000 through a fundraising site, Kickstarter.com. The crew has already raised nearly $9,800. That's just a few thousand dollars away of meeting their goal.
Castaneda says the team has an April 7 deadline to raise the funds.
He says if all goes well, the movie will be released to the general public by next summer, 2013.
For more information about the film or to donate, visit http://www.kickstarter.com/projects/836086693/cement-suitcase.