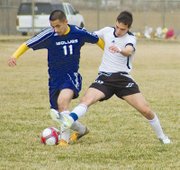 It was all Sunnyside from the get-go last night, Thursday, as the 3A Grizzly boys soccer team whipped visiting 2A Wapato, 6-0.
Sunnyside grabbed the lead early when Javier Contreras scored a goal on an assist by Oswaldo Lopez in the sixth minute.
Three minutes later it was Lopez's turn for glory when he found the back of the net to make it a 2-0 game.
The Grizzlies grabbed a 3-0 lead when Edgar Aguilar scored in the 18th minute.
"Edgar in the backfield directed the speed of play for the game," said Coach David Guevara. "He was an overall force to be reckoned with."
The Grizzlies kept up the momentum in the second half when Eddie Garcia scored in the 53rd minute, followed by a goal from Cristian De La Cruz in the 60th minute assisted by Marcelo Madera.
Scoring was then capped in the 70th minute when Madera found the back of the net for Sunnyside.
The Grizzlies collected 10 shots on goal against Wapato's defense, while Sunnyside keepers Cristian Vargas and Max Ramos combined for the shutout with three saves between them.
The Grizzlies, 1-0-1, return to action tomorrow, Saturday, when they travel to Eastmont for the league opener.