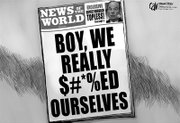 We all enjoy hearing news about positive people and events, or so we say we do.
It always amazes me the number of people I hear saying they want to hear or read about the good things happening in the community because I would much rather report "good news." I don't enjoy writing stories about poor behavior or things that negatively impact the community.
What some seem to forget is that the negative things happen in life, whether we like them or not. Ignoring problems only compounds them.
As a reporter, it is my responsibility to share the good and the bad. If it happens, and if it is newsworthy, I can't ignore it. There is no such thing as living in a state of ignorance when one's responsibility is to report what's really happening.
I always try to encourage community members to share events and information that is positive.
But, the sad truth of it is not every heart-warming story is shared with us. Not every positive event is revealed. The phone calls don't always pour in when something good is happening.
Also, as much as everyone would like to think they prefer the good news over bad news, it is a well-known fact that people like what is referred to as "the juicy stuff."
Look at the success of tabloid magazines. They print gossip and it sells.
I am not saying I approve of tabloids. I am not saying I think those "journalists" are responsible. I am only saying it is a statistical fact that bad news sells.
Believe me, I do not look forward to being the bearer of bad news. I consider the negative stories a proverbial headache, but I feel responsible for getting the facts straight and reporting the information as clearly as possible so the readers can draw their own conclusions.
So, next time you look at a headline or pick up a tabloid magazine, share a tid-bit about some celebrity getting into trouble, think about it. Think about how eager you are to talk about those negative events, rather than the positive stories that are out there.
More like this story