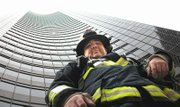 SEATTLE - When cancer strikes, almost nothing can prepare the person for the shocking news.
To help alleviate some of that shock, Sunnyside, Grandview and county firefighters participated in the annual Scott Firefighter Stair Climb last Sunday, March 11, at the Columbia Center tower in Seattle.
In full gear and oxygen tanks, firefighters climbed 69 flights of stairs and 1,311 steps to reach the deck overlooking the city. The Scott Firefighter Stair Climb supports the mission of the Leukemia and Lymphoma Society, raising money through sponsorships, individual and department fundraising and entry fees.
Each year, participating teams and individuals rally together, training for the climb and to raise money for the cause.
This year more than 1,500 firemen throughout the Northwest gathered at the event, including 12 Sunnyside, Grandview and Yakima County Fire District 5 firefighters.
The local participants included Tony Castillo, Bill Harris, Ryan Savage, George Saenz, Rubiel Clara, James Stanton, Andy Babcock, A.J. AbHold, KC Frazier, Kevin Frazier, Greg Klutts and Kalvin Tilly.
Sunnyside fireman Tony Castillo says he did it in honor of his uncle.
"I was dedicating the climb to my uncle, Joel Gomez, who just got diagnosed with Lukemia," he said.
James Stanton dedicated his climb to his father and former Sunnyside fire chief, Jim Stanton.
The fastest climber last Sunday was a Missoula, Mont. firefighter, Andrew Drobeck, who finished the climb in 10 minutes and 39 seconds.
Castillo, establishing the lowest finishing time among Sunnyside firemen, reached the top in 17:48. Of the Grandview firefighters, George Saenz reached the 69th floor in 21:36. Kevin Frazier, of YCFD5, finished the race in 18:23.