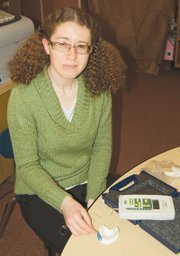 Scientists and medical professionals have long believed that facial nerve paralysis lasting longer than a year is permanent.
Emily Perry, a speech pathologist at Washington Elementary School in Sunnyside, proved that belief wrong through an experiment that was part of her Master's thesis, and has now been published in a medical journal.
Perry was injured in a motorcycle accident when she was 10 years old. The accident left her with nerve damage in the right side of her face.
As a grad student 13 years later in 2009, her professor suggested trying a series of exercises to strengthen her facial muscles, either in her own time or as a part of her thesis.
Uncertain what to do, Perry talked with her father.
"He asked me which one would have the most impact," she said. "I told him the Master's thesis would. And that helped me decide."
Perry's professor, Nancy Potter, got together with the maker of a device that measures pressure in the mouth, usually used in therapy involving the tongue. With the device, called the IOPI, Potter helped Perry develop a plan for the exercises. Another grad student served as the control for the experiment.
The program consisted of seven weeks of intensive exercise and 16 weeks of moderate exercise of the muscles on the right side of Perry's face.
In order to be certain the results were conclusive, the group had to design pieces of equipment that could be used for precisely placing the IOPI in the same spots for exercises and for measuring the differences in facial movement.
For location, the group developed what they called the "Perry Appliance," a waterproof fabric millimeter tape measure attached to a dental tray.
"I didn't name it that," said Perry. "They didn't consult me."
The group also designed an overlay grid that they put on images of Perry's face taken during the experiment. This allowed them to precisely measure the amount of lift in her lips.
After seven weeks, the pressure she was able to apply to the IOPI was significantly higher than the baseline from the start of the experiment, but Perry suffered a setback. Severe neck pain muscle tightness in the right side of her head cut short the intensive exercises.
The group then wrote up the results, bringing in a mathematician, and it became part of Perry's Master's thesis. Potter also wanted to have the work published in a peer-reviewed journal and in June 2011 it was published in Developmental Neurorehabilitation, a journal that aims to help children recover from brain injury or neurological disorders.
Perry hopes the work she's done will help other people with paralyzed nerves in their faces, and that's a hope that seems to be coming true.
"I went to a conference on motor speech," she said. "One of the doctors there was trying a new treatment based on the study."