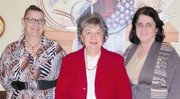 The Sunnyview Women's Republican Club has kicked off in the Lower Valley with a forming committee that met recently in Sunnyside to elect temporary officers.
According to club president Joyce Johnson, the club will "...promote informed political participation through education and related activities, which will increase the effectiveness of women in the cause of good government."
The impetus for the formation of the club was the recent Republican caucuses, which spurred action on an idea that Johnson had been considering for some time.
"We all met at the caucus and later went out to dinner to discuss it," said club vice-president Sandra Linde. "I'm excited about the interest. We had 14 women show interest at the caucus and we hope that number will grow."
Membership will be open to women from Sunnyside, Grandview, Mabton and Granger. Men are also welcome to attend meetings.
Female members of the club will be members of the Washington Federation of Republican Women and the National Federation of Republican Women.
An associate membership level will be open to women who are full members of other federated clubs, women under voting age and Republican men.
One goal of the club is to get more active participation in the political process.
"We will recruit and promote qualified women and men for all elective offices on the local, state and national level," said Johnson. "We also plan to foster loyalty to the Republican Party and to promote its principles and ideals while working for the election of Republican Party candidates."
Each month the group plans to have a different guest speaker or topic of current interest to the GOP. The club plans to get Sen. Jim Honeyford of Sunnyside as its first kickoff speaker.
"We plan on inviting speakers from the 15th Legislative District and from the 4th Congressional District," said Johnson. "Other speakers will inform the membership about various topics, which may include how bills are passed on the state and national level."
The club will also do fundraisers and voter registration.
"I have voter registration forms in English and Spanish if anyone wants to register to vote," said Johnson. "They may contact me at 882-2715."
Club meetings will be held on the third Tuesday of each month at Snipes Mountain Brewery and Restaurant, starting May 15. Attendees will be able to start ordering from a limited menu starting at 11:30 a.m. and the meeting will start at noon.
Temporary officers are Johnson and Linde with Joella Armendariz as the recording secretary and treasurer. Elections will be held within a few months of the first meeting.
To receive the informational e-mail from the club call Johnson at 882-2715 or Armendariz at 840-2301.