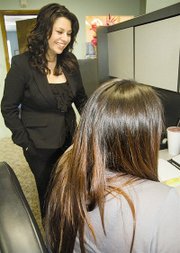 The year 2012 has already seen a number of changes for Sunnyside-based Lower Valley Crisis and Support Services, as the non-profit has a new executive director and a new board president.
Chico Rodriguez was vice president of the agency's board and is now president with the departure of Cherry Fairbanks, who had been president.
Rodriguez also noted Lower Valley Crisis and Support Services board treasurer, Virginia Staggers, stepped down due to her traveling schedule.
The agency's executive director, Julia Hart, stepped down last month for unspecified reasons. Hart declined comment.
Leticia Garcia is the interim executive director for Lower Valley Crisis and Support Services. The Sunnyside resident had served two stints as a member of the non-profit's board of directors.
Garcia has previous experience that includes three-and-a-half years working with the Sexual Assault Resource Center in the Tri Cities.
She says she's happy to be working closer to home here in Sunnyside. Garcia says her focus has been to connect with community organizations and agencies, as well as providing direct services to clients.
"No one day is ever the same," Garcia says.
She says working with Lower Valley Crisis and Support Services is a way to give back to the community that she calls home.
Rodriguez said the board hasn't yet decided whether Garcia will be retained as executive director on a permanent basis because the priority now is maintaining the agency's accreditation.
"We brought her in as kind of an emergency to have our accreditation renewed," Rodriguez said of the June deadline. "It has to be done by a certain time so that we can continue to have funding."