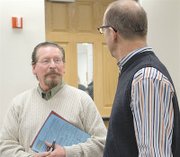 Opinion is not only split here in Sunnyside on the city's new interim city manager, Frank Sweet, but also in Selah where he worked for 20 years.
The experiences shared by those in Selah support him as a business-friendly city leader, but raised questions about some of the dealings with city employees.
Sweet left Selah as city supervisor last month and last week became Sunnyside's interim city manager. His departure from Selah came shortly after Mayor John Gawlick was sworn into office, who defeated longtime mayor Bob Jones last November.
The handwriting was on the wall for Sweet when in the final city council meeting of 2011 Selah withdrew from the agenda employment contracts for Sweet and the police chief.
Citing a clause in the city's confidentiality agreement with Sweet, Gawlick declined comment to the Daily Sun News on the reasons for Sweet's departure from the city.
Gawlick confirmed Sweet initially sought a separation agreement of about $500,000, before the city and Sweet agreed on a deal worth about $100,000, plus insurance benefits.
Sweet also declined comment on his separation from Selah, but did speak to how his past experience can help him here on the job in Sunnyside.
Sweet noted his experience and contacts with various funding agencies can be a help for Sunnyside as it seeks to revitalize its downtown and overall business climate.
Sweet says one of his strengths is "...the past experience and knowledge and ability to communicate openly with the citizens, mayor, council and staff."
While in Selah, Sweet said he worked with New Vision to bring in Graham Packaging.
Sweet says his priority now is moving forward in Sunnyside.
"There's a tremendous opportunity for growth and development here," he said.
"We enjoyed working with Frank"
Though Gawlick declined to discuss Sweet's performance in detail, others in Selah did.
Jean Brown is president of the Selah Chamber of Commerce, and she says Sweet was supportive of the business community there.
"We enjoyed working with Frank, he had a good vision for Selah," Brown told the Daily Sun News. "He brought ball fields to Selah and worked with the chamber to promote family-friendly activities."
Brown added that under Sweet the city had an assigned representative to the chamber's board. "We worked with the city very closely," she said.
"I always felt really good about the support we got from him," Brown said. "I hope he's able to do the things in Sunnyside that he did for Selah."
She says Sweet's departure after two decades in Selah came about because the new mayor wanted to bring in his own management. "That's not unseen in the business world," Brown added.
Sweet's four-page resume submitted to the city of Sunnyside includes a reference letter from David McFadden, president of New Vision, which also provided a positive review.
"Our organization has worked with every city within our region and Frank is one of the best municipal professionals within the Yakima Valley," McFadden said of Sweet.
Rod Matson of Selah-based Matson Fruit had a more mixed reflection on Sweet's time in Selah.
Four years ago Matson's company sought a re-zone to expand its operations in Selah. "The mayor (Jones) and supervisor (Sweet) fought us tooth and nail," Matson recalled.
While noting his company was able to eventually get the rezone, with concessions attached, Matson said the stand-off almost prompted him to pull his company out of Selah.
"It was pretty serious," Matson said. "If it didn't go through (the rezone) we would probably have been forced to do something different."
Matson, whose company employs 373 people in Selah, said locations east of Yakima were under consideration before a rezone agreement was finally reached.
Bob Noe is Selah's city attorney, and he said Matson's rezone was a lengthy process because the property in question was in an area zoned for commercial, not industrial purposes.
Noe explained the city owns a 14-acre parcel of land on North Wenas Road and had intended to use it as the site of a new city hall. He said those plans later changed and in 2002 the area, including property Matson sought to use for expansion, was rezoned commercial with the intent of turning it into a business corridor.
Noe praised Sweet's role in helping Selah recruit business to the city's North Wenas Road property, which he says today has a Taco Bell, a hardware store, a Les Schwab store, two banks, a hotel, an auto parts store and a doctor's office.
Like Selah, Sunnyside owns land - 150 acres near Outlook - that it wants to market for business development.
"My experience with him was very negative"
While Sweet generally received high marks for business and commercial development in Selah, there were issues raised by and about employees at city hall.
Over the course of Sweet's 20 years in Selah there were issues with some city employees, including court cases brought against the city.
One involved a police clerk, Janine Beghtol, who in 2009 sought damages in a suit filed against Selah and Sweet due to a violation of the Family Medical Leave Act.
"She was out with an illness and then Frank Sweet terminated her in violation of the federal Family Medical Leave Act," said Bill Pickett, Beghtol's attorney.
Sweet declined comment and deferred to Selah's city attorney, Noe, who said the case arose after the city had tried to work with Beghtol to accommodate illness and family leave requirements.
Noe said Sweet miscalculated "by a day or two" in terminating Beghtol before her family leave time had expired. Noe said the termination came about, in part, because the medical guidance from Beghtol's doctor was unclear about her ability to return to work.
In addition, Noe said the city in a cost-cutting move eliminated some positions, including Beghtol's, when it outsourced dispatch services to Yakima County.
The case never made it to court, as Pickett said Selah's insurer reached a $150,000 settlement with Beghtol.
Andy Paschen is Selah's court administrator, and he too brought an action against the city, although eventually it was ruled to have no merit.
"My experience with him was very negative," Paschen says of working with Sweet. "There were issues where I felt very strongly that I was not treated properly by him."
Paschen has worked with the municipal court since 2004 and he says in about 2008 Sweet "...began to spearhead changes in my job status." Paschen contends that Sweet was not authorized to supervise in court matters due to separation of powers between the executive and judicial branches of government.
"Yet he took it upon himself to reclassify my job, moved everything, all the court equipment, computers, software from the court office up to the utilities payment office," Paschen continued. "For a solid year I was made to work Monday through Friday 8-5 as a utility billing clerk and at the same time, Monday through Friday 8-5, I was also the court administrator."
Paschen claims he was not only ordered to work two jobs at the same time, but actually took a pay cut because Sweet had him compensated at half time for both positions.
He claims Sweet brought about the hardship in retaliation for a media leak about the departure of former Selah Police Chief Rick Gutierrez, now Mabton's police chief.
"It was definitely not a parting by the police chief's choice," Paschen contends. "He (Gutierrez) did not want to leave his job." Gutierrez declined to comment on his departure from Selah.
Paschen says he was not the one who leaked information about the nature of Gutierrez's departure to the media, yet was targeted because Sweet felt he was.
"He incorrectly assumed that I was one of the media leaks and that's when my troubles began," Paschen said.
Paschen eventually filed an equal opportunity employment complaint because he felt he was unfairly targeted as a man.
Sweet again declined comment and deferred to Noe, the Selah city attorney. Noe said Paschen brought a discrimination complaint as he felt he was treated unfairly because he was a man.
Noe said Paschen and another male employee were identified as possible leaks because a Yakima Herald reporter told Sweet the source was a male. He says that's why only the male employees were asked about contact with the media on the Gutierrez situation.
Noe said Paschen's case was eventually forwarded to the human rights commission, where it was dismissed.
"Hate to see him going anywhere"
The Daily Sun News also gained knowledge of a third case filed against Selah under Sweet's watch over the last 10 years.
Bill Teaford settled with Selah's insurer for $150,000 after the longtime fire department employee says he was let go in 2003 and a younger man hired to do his job.
Sweet declined comment, as did Noe because he said the claim pre-dates his involvement with the city of Selah as its attorney.
Teaford says he was targeted because he joined the union and filed an L&I claim for hearing loss sustained on the job.
He says his goal is to caution others about working for Sweet.
"Frank's basically a hatchet man, we've lost approximately eight to 10 employees that were doing the job and he'd find one reason to get rid of them," Teaford said. "The same thing happened to me. They take all your duties away from you and then send you down the road."
Teaford added, "I'd like to forewarn people down the road. I hate to see him going anywhere. I wish all of your employees at the city tons of good luck."
Issues in dealing with city employees may have been a reason for Sweet's separation from Selah, Noe, the city's attorney, suggested.
He noted the new mayor, Gawlick, once worked under Sweet as a city employee.
"The mayor had some experience working with Frank and he just wasn't someone he wanted to work with," Noe said. "It came to the point of how do we make this separation happen without a lot of problems for the city or Frank."
"Someone to fill the gap"
Sweet declined comment on the negative reaction shared by Selah employees not only because of the legal action involved, but also because his focus is looking forward to his work in Sunnyside.
"I'm just looking at the future and just thrilled to be working with the city council," said Sweet, who says a priority is working on the city's budget. "We're all on the same team."
Council and Sweet may be representing the same "team," but Sunnyside's divided city council approved him as the interim manager by a vote of 4-to-2.
It was not the unanimous backing Councilman Jim Restucci had hoped for.
"I wanted to send the message to Mr. Sweet that we support him," says Restucci.
Though his preference was for council to keep Mark Gervasi on as an interim city manager past his resignation date of April 6, Restucci backed Sweet as the interim because of his experience in the Yakima Valley.
"He's from this valley and familiar with all the issues the cities in the valley face," Restucci said. "His command of the budget was impressive."
Restucci added, "We're looking for an interim, just someone to fill the gap after Mark leaves. The fact that he (Sweet) was a city supervisor for 20 years means he can hit the ground running."
Sweet, a Yakima resident, said he hasn't decided whether he will seek the Sunnyside city manager post as a permanent position.
"It's yet to be seen, but I believe I will be," Sweet said. As for whether he would be willing to move to Sunnyside as previous permanent city managers have, Sweet said, "I don't speculate that far ahead."
If Sweet does seek to remove the interim label, Restucci said he would need to go through the same evaluation process as all other city manager candidates.
Over in Selah, Sweet's transition in just a matter of weeks from their top post to Sunnyside's is a surprise.
"It seemed like a pretty rapid process," said Selah's attorney, Noe. "Everyone here was thinking he'd be out of work for awhile and he picks up this gig right away. He got lucky, I guess."
Only time will tell whether Sunnyside "got lucky" in finding Sweet as its interim city manager.