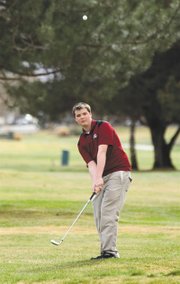 Picking up birdies on the par-4 first and fifth holes Monday afternoon, Chandler Luther claimed medalist honors in a three-school, nine-hole match at Black Rock Creek Golf Course.
Luther toured the front nine with a 6-over-par 42.
Only three strokes separated Luther from his Sunnyside High School teammates, who came away with an aggregate score of 176 to claim the non-league victory.
Rounding out the Grizzly tally sheet were a 44 from James Voorhies, and a pair of 45's from Nathan Meyer and Ian Heffron.
Sunnyside Coach Gary Rohde said Voorhies' round was a model of consistency, "...lots of bogeys."
Meyer and Heffron's scorecards also had plenty of bogeys, although each came away with a tweeter on the relatively short, par-5 third hole.
Meyer actually had a chance to drop a putt for eagle on No. 3, having reached the dance floor in two, but settled for the two-putt bird.
Also competing for Sunnyside yesterday was a fairly new face to the game of golf, Eli Romero. He got around the front side with a 56, although his round was not applied to the team total.
Grandview finished second yesterday with a team score of 217. Matt Daily had the low individual round for the Greyhounds, finishing just one shot back of the medalist, Luther, with a 43.
Also competing for the 'Hounds were Anthony Kollmar with a 53, Cameron Stinnett with a 59 and Justin Murbach with a 62.
Although their scores weren't used in determining Grandview's team tally, the Greyhounds also got rounds of 70, 74 and 79 from Ty Adamson, Adam Fleming and Carlos Marquez, respectively.
Prosser, which had to take an incomplete in the team scoring because the Mustangs had just three golfers at their disposal, was led by Taylor Gant, who posted a 49. Deven Murray and Riley Hogue added rounds of 51 and 53, respectively, for Prosser.