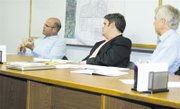 A feasibility study on using dairy farms to produce renewable natural gas, sponsored by the Washington Department of Commerce, is being conducted in the Lower Valley.
Dan Evans of Promus Energy gave a presentation on how renewable natural gas could impact the valley and what would be needed to get the infrastructure in place, at the Port of Sunnyside's regular meeting Monday night.
Also present was dairyman Dan DeRuyter, who explained why his dairy farm is exploring the renewable natural gas option. DeRuyter said he cannot make a profit by converting the natural gas produced by the anaerobic digester on his dairy farm into energy. The local power company will not pay him enough to cover the maintenance costs of running generators and have set transmission costs too high for him to sell to other power companies, he explained. As a result, DeRuyter is looking for new markets.
According to Evans, the potential for natural gas is high, with the technology worked out already but the lack of infrastructure holding back the widespread adoption of vehicles run on natural gas.
At the moment, most natural gas vehicles are fleet-owned, such as refuse trucks, taxis and transit. Evans pointed to Pierce Transit and Sound Transit, both of which use natural gas to power many buses. The lack of regular refueling stations is an impediment to the adoption of natural gas over petroleum for average drivers or long-haul trucking.
Natural gas can also be injected into the local pipelines for use in homes. Again, the infrastructure is the limiting factor, with an injection point into the Williams pipeline likely to cost up to $1 million.
The goal of the port being to promote industry in the area, the possibility of the port using grant money to create an injection point or build a refueling station, or both, was brought up by Commissioner Jeff Matson as a possibility. The port has access to public funding that a private industry such as DeRuyter does not.
With an injection point in place, other dairies may be more inclined to follow DeRuyter's lead and build digesters, leading to cleaner air in the valley.
Comissioner Arnold Martin stated that the mint industry is being encouraged by vendors of their end products to "go green" and converting to renewable natural gas may be a way to significantly reduce their carbon footprint.
While the potential for renewable natural gas seems high, the results of the feasibility study will determine if the technology moves into the Lower Valley.