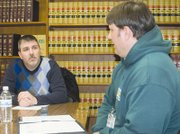 How do you pay for sidewalks and parks when you don't have the money?
That was the crux of yesterday's meeting for the city of Sunnyside's Public Works Sub-Committee.
During Monday's meeting at Sunnyside City Hall, the subcommittee - which consists of Chair Jim Restucci, Vice Chair Theresa Hancock and Councilman Jason Raines - wrestled with the city's infrastructure woes.
Raines brought up the issue of sidewalks - both those in need of repair and areas where they are lacking altogether.
In particular, Raines was concerned about Sierra Vista Middle School students who have to cross the street to walk on sidewalks because there are none on the school's side of the street.
Public Works Supervisor Shane Fisher said the lack of sidewalks near the school is because former City Manager Bob Stockwell signed an agreement with the Sunnyside School District that the city would be on the hook - and not the district - to pay for sidewalks in that area.
Restucci and Hancock said Stockwell did not bring that agreement to council for consideration.
"We can't drop the ball on stuff like that," said Raines, a first-year council member.
Since Washington state dictates that property owners are responsible for curb, gutter and sidewalks, Restucci suggested council at a future meeting review establishing local improvement districts.
Also known as an LID, they are agreements that neighborhoods develop in which over time all share in the cost of infrastructure improvements, such as sidewalks.
Restucci said years ago he attempted to gain support for a sidewalk LID on Harrison Hill but neighboring property owners balked at the idea. He added that perhaps over time there may be support in the city for forming improvement districts to construct curbs, gutters and sidewalks.
As for parks, the commission expressed support for seeking designs for new signs at each of the city's parks.
Fisher cautioned that due to budget constraints, the city will not have as much help from seasonal park employees. He noted union requirements are making for higher costs and that means fewer hours for the seasonal park employees.
Fisher said Sunnyside's one park employee will have help from two seasonal workers this spring and summer.
However, because of added costs the seasonal help will begin work at different times of the spring/summer season - with one starting a few weeks before the other's seasonal schedule ends.
The staggered schedule means that most of the time there will only be one extra worker available. Fisher said the staggered schedule, though, means that Sunnyside will have an extra employee on hand through the entire season.
All of the sub-committee members agreed the city will have to reach into general fund money to pay for parks, and that a five-year plan is needed to establish funding for priorities like parks and sidewalks.
The Public Works Sub-Committee will next meet on Thursday, April 19, at 5 p.m. in the executive conference room at Sunnyside City Hall. The agenda for the next meeting will include an update on progress regarding the city's water rate study.