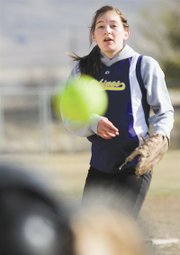 MABTON - The Mabton Lady Vikings softball squad split its doubleheader against the visiting Granger Spartans in the first league games of the season yesterday.
Lady Viking Jazzee Sustaita struck out 10 Granger girls in the first game, allowing Granger only four runs on six hits. Sustaita went 2-for-4 batting, Isabella Ahumada was 1-for-4 at the plate and Adi Barajas went 1-for-1 and recorded three walks.
Granger brought in three runners in the third inning and an additional runner in the final stanza. Despite the strong showing by Mabton, the Lady Vikes succumbed to the Spartans 4-3 in the first game, coming away with four hits and one error.
Mabton won the second game by a decisive score of 15-7, with 12 hits and one error.
The Vikes' batters were walked 15 times in the nightcap and scored 11 runs in the fourth inning.
Sustaita went 4-for-5 at bat, with one home run for Mabton. Ahumada went 2-for-5, one of her hits a triple. Jackie Cruz went 3-for-5 batting with a double and a triple. Barajas went 1-for-1 at the plate and was walked three times. Jesenia Meza went 1-for-2 with three walks while Cassidy McCallum went 1-for-2 with two walks and one double.
Sustaita struck out three more batters in the second game and went a total of 6-for-9 at the plate for the day.
Coach Jesus Sustaita says with only two errors combined in both games, the Lady Vikings' first outing of the season went well.
"Overall the girls did a great job," he said. "Our defense looked good with a total of two errors in both games."
Mabton next competes on Tuesday, March 27, in Goldendale.