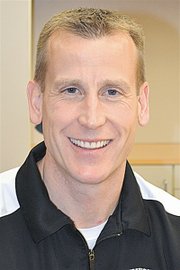 If Sunnyside School District Superintendent Dr. Rick Cole has his way, Sunnyside High School's new principal will be a familiar face around campus.
It was announced yesterday (Tuesday) that Ryan Maxwell, currently serving as assistant principal to Dr. Chuck Salina, will serve as the newest principal at the school beginning July 1.
"That's pending school board approval," said Cole.
He said, "I was very happy to offer Ryan the high school principal position."
Cole continued, stating the decision was not easy due to the strong pool of candidates for the job.
The decision, however, was easier for Cole because "...Ryan's knowledge and skills made him the top candidate."
He said Maxwell is a skilled administrator and he believes Maxwell will continue leading work being completed at the high school.
"I have no doubt that we will continue to see our high school's staff and students succeed under Ryan's leadership," said Cole.
Maxwell said that is his primary goal, to work with staff and students to continue its forward progress in achieving academic success.
His initial response to the announcement was, "Holy cow!"
Maxwell said, "I'm excited to continue the great work that Dr. Salina has begun at the high school, and to take Sunnyside High School to the next level."
He said his heart is with the education of students in the Lower Valley.
Maxwell grew up in Grandview, attended Grandview schools and earned his Bachelor's degree at Washington State University. He received his administrative credentials from Heritage University.
His history in Sunnyside schools spans 15 years. He was a teacher at PRIDE High School for two years before becoming an educator at SHS. He has been at the high school serving as an educator and mentor to students and staff since.
"This is my sixth year as an administrator," said Maxwell.
He said he considers the Lower Yakima Valley his home and is proud to be part of the educational process that directly benefits today's youth.
That, said Maxwell, is what drove him to apply for the principal's position.
If he is approved as the new principal of SHS, Maxwell will replace Salina, who was hired by the Sunnyside School District to fulfill a two-year term in that position.
Salina was hired to fulfill the requirements of a school improvement grant (SUMMIT), which stipulated SHS needed a new principal. He set out to improve graduation rates, state testing scores and academic success. All available data point to his being able to do so, with the help of staff, as the grant funding expires this coming June.