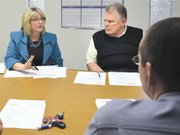 At a meeting of the city of Sunnyside's subcommittee on finance and administrative services, the city's top financial officers made proposals that they believe will help city hall collect on debts owed by its customers.
Currently, the city of Sunnyside uses the services of two collection agencies for the purposes of collecting debts owed to the city's municipal court and the ambulance service.
Rent Recover, formerly known as Pride Recovery, has been providing collection services for the municipal court, according to Deputy City Manager and Chief Financial Officer Byron Olson.
He said the agency has been highly successful in recovering debts owed the city, and last month collected $10,000.
"We were wondering if the same service might be good for utilities and ambulance collections," said Olson.
Assistant Finance Director Amy Palmer said the city utilizes the services of Evergreen Financial Service for collection of ambulance service fees.
However, there is no contract for services to collect debts on utility bills.
"We would like to propose a single contract for all collections, including utilities," said Palmer.
She said the fire department is accepting of such a proposal, the contract has been subject to legal review and the fee structure is acceptable under state statutes.
Rent Recover, Palmer said, is the collection agency recommended. She said the agency would receive 30 percent of funds collected if there is no formal legal action. For collections that require legal action, 40 percent of the funds would be paid to the collection agency.
In addition to contracting with one collection agency, Palmer told the subcommittee, which includes Councilmen Jim Restucci and Craig Hicks, as well as Councilwoman Theresa Hancock, that city staff have prepared an application form for utility customers to "help facilitate the collection process."
The application she presented asks for information that would better assist the city in locating individuals who are delinquent with payments.
Palmer said it is especially important to have information at hand with renters because they do not always remain at the same residence for long periods of time.
She said it is also the desire of the finance department to obtain a deposit from first-time customers who reside in rental properties.
That deposit, said Palmer, would be held in trust and would be refunded to the customer. It was suggested the deposit could be refunded after about a year or when the customer has established a good payment history.
Under the plan, the deposit funds cannot be used by the city or co-mingled with any other funds, Palmer and Olson assured the subcommittee members.
"We also recommend a payment plan for those who meet specific criteria," said Palmer, stating when customers fall behind on bill payments she would like to give them options.
She said the payment plans would provide customers peace of mind, helping to prevent utility shut-offs and collections.
Palmer said, "It softens it and shows the customers we are concerned with providing them a way of paying their bills."
Hancock, Restucci and Hicks were all pleased with the proposals.
Hancock said she would like to see reports from the collection agency.
All three council members agreed the proposal should be forwarded to the Sunnyside City Council.