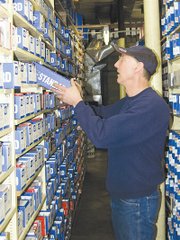 Jeff Reihs' boss at K&U Auto Parts in Sunnyside calls him "Doctor Fabulous."
"He was working on a car outside, and when he went in the customers said, 'Wow, that guy is fabulous!'" said Rich Gamboa. "It stuck."
Reihs has been working at K&U for two and a half years, and before that he worked at Johnny's Service Station on the corner of Seventh and Edison. He's lived his entire life in the Lower Valley, and has worked on cars that entire time.
He didn't get a formal education in cars, he learned by experience.
"I learned by trial and error, by reading lots of books, by asking lots of questions," Reihs said.
His education was enough to keep him steadily working as a mechanic, but now he sticks to helping people find parts and replace headlights.
"I had to give up doing mechanic work," he said. "My knees couldn't take it anymore."
He enjoys the work at K&U, but particularly enjoys seeing people he's known in town all his life.
"I'm a people person. I like that I get to stay in touch. That's the part I really enjoy," he said. "I can go home if I need to be alone."
But home isn't exactly quiet. Reihs and his wife raised five sons, and now the house is populated with a variety of dogs, cats, rabbits, llamas, guinea hens and horses.
"My wife's an animal person," he said. In the past year he's taken up riding horses, as well.
But going home to the menagerie has advantages.
"They don't speak," he said of the family pets.
Reihs said he never learned the modern aspects of car repair, like the computers that have become ubiquitous in modern vehicles. It would have cost far too much to upgrade Johnny's to repair those cars.
"We would focus on maintenance, and send people elsewhere for stuff we couldn't fix," said Reihs. "Eventually, if man makes it, it's gonna break."