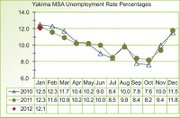 According to the latest figures available, Yakima County's unemployment rate is seeing a slight decline.
As of the end of January 2012, Yakima County's unemployment rate was at 12.1 percent compared to 12.3 percent who were unemployed in January 2011.
"This is a modest, over-the-year drop in the rate and a small step in the right direction for the local economy," said Don Meseck, a regional labor economist for the state's Employment Security Department.
Areas of growth in the Yakima County job market included retail businesses, which added 600 jobs as of January 2012 compared to January 2011.
In addition, the county's food services industry gained 100 more jobs in January 2012 compared to the same time the year before.
Overall, there were 77,300 non-farm jobs in Yakima County in January of this year, a gain of 2,400 over the same time in 2011.
Meseck said another positive was a gain of 100 construction jobs in January 2012 compared to the year before.
He noted the construction industry in Yakima County actually lost 700 jobs in 2009 and 300 more in 2010. "Hence, a 100-job over-the-year advance this January is encouraging news," Meseck said.
Also a positive sign is that agricultural jobs in Yakima County increased by 2,540 during 2011, Meseck said.
He noted there were some areas of decline in the Yakima County job situation. For instance, the county lost 800 manufacturing jobs and 500 jobs in health and education during 2011.
Meseck said the county saw a decline of 200 jobs in the professional and business service sector from January 2011 to January 2012. He notes the category includes jobs with employment agencies.
Also of concern, Meseck says, is the shrinking employee pool in Yakima County and Washington state overall.
Calling it a "disturbing economic trend," Meseck says Yakima County's labor force shrank by 1,160 people between January 2011 and January 2012. He says the state overall lost workers during the same time frame as well.
Meseck says the downturn in available workers may be related to an ongoing weak economy that has discouraged potential job seekers and caused them to drop out of the labor force.
Meseck says another explanation might be that an increasing number of older workers are accepting early retirement offers from their employers as organizations downsize.
With that said, he sees the overall positive employment trend continuing in Yakima County through the rest of 2012.
Meseck notes that Cabela's and J.C. Penney's will be opening new stores in Union Gap. He says this "...indicates retail employment will probably grow during calendar year 2012."