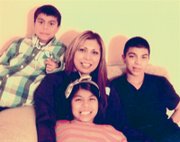 Nearly two years ago, Sunnyside resident Mia Romero, 34, was diagnosed with breast cancer.
During the fight, through surgeries and treatments Romero won out. She was declared in remission.
But, just three weeks ago Romero learned that the cancer had returned.
This time chemotherapy isn't an option for the single mother of three. Due to traditional treatments posing possible health concerns, she's opted to try a non-traditional treatment in another country. This treatment is set to cost nearly $18,000, which isn't covered by her health insurance.
Though this news isn't taken lightly, Romero isn't shaken.
"It's going to be ok, it has to be," she said. "I have faith in God."
She says what's getting her through the process is her family.
"She is my support system right now," Romero said of her mother, Gloria Lemos.
To help raise funds for the treatment, the family has set up bank accounts at Hapo Credit Union and Bank of America.
Residents wanting to donate monetary gifts at Hapo Credit Union can make a deposit to the account "Donations for Mia" with the account number 2293060, or at Bank of America with the account number 138101643283.
The family has also decided to hold a yard sale fundraiser on Saturday, March 24. The yard sale will be from 8:30 a.m. to 5 p.m. and will be located at 639 Thompson Drive #E in Sunnyside.