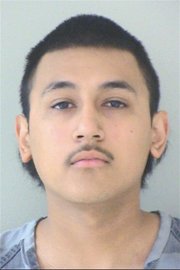 The news of last night's homicide at Sunnyside's South Hill Park has students, staff and family members of an 18-year-old Sunnyside High School student mourning today (Thursday).
Staff learned of the incident early this morning at a staff meeting in preparation for the day ahead, according to Assistant Principal Dave Martinez.
He said SHS notifies its staff when there is a death that will impact the high school community. This provides them the opportunity to be prepared for the reaction and emotions of those who may be impacted.
"A safe room for students is set up," said Martinez, stating counselors are in place to assist staff and students grieving or dealing with the various emotions that accompany grievous news.
"It's always a tragedy when we lose a student," he said, stating Sunnyside High School is a community that bands together.
Martinez said students who may not have known the murder victim can be impacted as well. "It can trigger feelings associated with past losses."
He continued, stating the school also extends services to the family of the victim.
"We know the family is hurting," said Martinez, stating it is important to support the family during times of hardship.
Sunnyside police have identified a suspect believed to be involved in the shooting, which occurred shortly after 8 p.m. last night at South Hill Park. He is Ismael Garcia, 18, of Prosser.
Police say the incident is believed to be gang motivated.
Officials say the 18-year-old victim was transported to Sunnyside Community Hospital, but succumbed to his injuries.
"Currently, we have two people in custody under investigation for accomplice to murder," said police.
The two suspects in custody are an 18-year-old male and a 14-year-old female. Police were unwilling to identify the individuals because the case is still being investigated and Garcia is still at large.
The victim's name has not been released pending coroner confirmation.
Police said they are still looking for a white or gray Chevrolet Malibu believed to have been used during the time of the murder.
Anyone with information regarding the case is urged to call the Sunnyside Police Department at 836-6200.