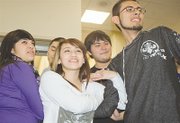 When Prosser native Catalina Alvarez enrolled in her first "Dream Project" course at the University of Washington Bothell campus, she was hooked.
The class is a non-traditional course that is dedicated to informing and mentoring high-school aged prospective first generation college students who primarily come from low income families.
Students enrolled in the course weekly visit high schools in the greater Seattle area.
"The idea was thrown out to take the Dream Project out of town," says Alvarez.
Since Alvarez is from the area and knows firsthand that many students in the Yakima Valley are first generation potential college students, the UW undergrads decided to take their course on the road and into the Yakima Valley.
A group of nearly 10 students and faculty have traveled during their spring break to visit students at Sunnyside, Grandview, Mabton, Davis, Eisenhower and Chiawana high schools.
Beginning each workshop, UW students organized games and ice-breaker activities for students to feel comfortable at the workshop. High school students were given worksheets to fill out that might help with the university application process and obtaining financial aid and scholarships.
The UW Bothell students gave up their spring break to travel, inform and mentor students because of their deep passion for the project, says Alvarez.
"We are all so passionate about this outreach," she said. "We don't get paid; we do it to help others."
The university students will return to campus this week and hope to have imparted passion and wisdom about college.