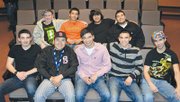 For approximately five years the leadership students at Sunnyside High School have been raising money to benefit Children's Miracle Network and the neonatal intensive care unit at Yakima Memorial Hospital via the Mr. SHS Pageant.
This year is no different with 12 Sunnyside High School students vying for the title. The contestants include David Castro, Manny Rivera, Jose Manzo, James Salazar, Jerry Alquicira, George Villalobos, Eric Espindola, Omar Cantu, Michael Cornwell, Nathan Gonzalez, Wilson Tramel and Nick DeLeon.
Castro said the contestants have raised approximately $1,200 so far.
Those funds, said Villalobos, have been raised through a number of outside fundraisers.
"We sold pizza at a varsity basketball game, we did the dash for cash at the talent show and basketball games and we had a pie in the face fundraiser," he said.
Rivera said the contestants have also served as waiters at Bon Vino's.
Villalobos named a heart-o-grams fundraiser and Mr. SHS dance among the other fundraisers the contestants have participated in to date.
There is one more fundraiser before the boys take the stage on Saturday, March 31.
The group will next Wednesday, March 28, participate in a walk-a-thon after school. The event will take place in the SHS 200 and 300 buildings beginning at approximately 2:30 p.m.
There will also be another dash for cash at the pageant.
For the Mr. SHS Pageant to be staged at the SHS auditorium on March 31, there will be a vocal performance, three solo dance performances, two creative skits, a musical performance on the saxophone, a monologue and one mystery talent performance.
The group has also worked together on a choreographed routine for the annual fundraising event, which will be at 7 p.m. The price for admission is $5.
"It's all for a great cause," said Salazar.