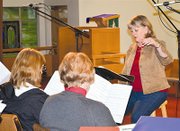 Vocalists from four local churches are busy preparing for the annual Easter cantata to be performed Sunday, April 1.
Under the direction of Kathy Gervasi, singers from Sunnyside Presbyterian, Oasis Community, Our Saviour's Lutheran and Sunnyside United Methodist churches have been rehearsing "The Song Everlasting."
The Easter cantata brings together these vocalists for the purpose of sharing and celebrating the life of Christ with the community through American folk songs and hymns.
The vocalists will be accompanied by an instrumental CD. The words and music are by Joseph Martin.
The group, said Gervasi, has been rehearsing for the event since Feb. 8.
The April 1 performance will be held at Sunnyside Presbyterian Church at 3 p.m. and is free to attend.
"It's so exciting to have the community come together and sing," said Gervasi.