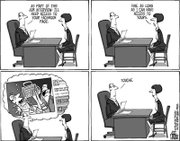 Facebook has a fairly new feature out called the "timeline."
The application pulls up everything you've ever posted on your page from the day of its creation.
While at first I was lost in a state of nostalgia within my personal Facebook history, I suddenly realized how glad I was that I have never posted anything too embarrassing or appalling.
My first run-in with social media screening was a few years ago when I was up for a job interview.
After the grueling interview and of course, the news that I'd been hired, before leaving the conference room my new boss turned around and said, "Oh, thank you for having a clean Facebook page." He smiled and proceeded to walk out.
I was both shocked and relieved. I felt surprised and a bit weird because of the fact that someone could see what I was doing, where I was at, and who I was with. I was relieved because I made sure to "keep it clean."
Over the years social media has become for many like a limb attached to their body. And for the diehards, an artery connected to their hearts.
Many use their pages for updating those whom they don't connect with on a regular basis. But others use the sites as personal journals and public windows into their deepest thoughts. Even others, still, use the site to display illegal activities that they've participated in.
While it may seem "all in good fun" at the time, these kinds of postings may be problematic for one's future.
I always wonder if I were a different person, and had posted something inappropriate on the page, would I have been offered that job.
It reminds me of the song my grandmother used to sing to us, "Oh, be careful little ears what you hear."
More like this story