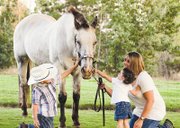 Last Sunday, March 18, 2012, was a special milestone in the life of a Yakima County Appaloosa horse. Very few horses ever celebrate a 35th birthday, but that's just what Sam's Show Boy (Sam's Son x Dutch Mama), did!
Sam was bred by Q. G. and Jocelyn Goodwin and born at Goodwin Appaloosa's on South Hill Road in Sunnyside in 1977. In his early days he was sent to California to race, but that owner quickly realized this horse enjoyed the slower pace in life.
Soon he was purchased by the Sutton family of Selah, in 1981, where he was formally broke and trained by John and Ricky Turner of Selah. In 1990 he was purchased by the Devine family of Selah for daughter, Kelly, as an 11th birthday gift. He became her 4-H performance horse project and was shown in the Yakima County 4-H Program from 1990 to 1997, winning numerous trophies and ribbons.
"He always fell asleep during the first class of the day, Showmanship," recalls Kelly. "Sometimes his knees would even begin to buckle as if he were about to fall over!"
But once under saddle, he did it all; Hunt Seat, Western, Trail, and even a few years of Jumping.
In the summer of 1997, Sam and Kelly, along with other youth members of the Central Washington Appaloosa Horse Club, participated in the Chief Joseph Trail Ride sponsored by the National Appaloosa Horse Club. They rode over 100 miles in five days along the Continental Divide trail between Montana and Idaho.
"It was a tough trail, we rode through every kind of weather, and the days were long, but Sam was always worried about being 'left behind' by his buddies, so he would keep going strong to stay near the head of the pack," remembers Kelly.
"He was 20 that year, probably one of the older horses on that type of ride. For a horse, 20s are 'old' and many horses never see 30," the Selah native said.
Kelly left home for college in the fall of 1997, and Sam joined her in Pullman for her sophomore year. "Riding in the wheat fields, just the two of us, seeing deer, experiencing freedom and peace was just a special time for me, an experience I'm very glad I had," says Kelly.
After that year, Sam was "retired" to the pasture where he continues to live in Selah.
Today Sam is mostly blind and hard of hearing, but he knows every inch of the barn and pasture he's called home for the past 22 years, so he gets around just fine.
Over the years his coat pattern has changed from once having the distinct Appaloosa spots and "blanket" on his rump, to being almost entirely grey.
He is receiving attention from a younger generation now, too. Kelly's children, Justin (6) and Brianne (2), of Grandview, enjoy petting and brushing him and an occasional ride on his back. He shares his pasture with an Arabian buddy, AP Astar, who is also getting along in years now at age 25.
Sam is unofficially one of the oldest horses in the county, according to Sam's farrier, Mike Wright, who only trims one other horse likely as old as Sam.
The old-timer isn't without some medical issues, but he's doing quite well with the extra special care he receives daily from Kelly's parents, Steve and Donna.
"We wish Sam a happy 35th birthday . . . with more to come!" Kelly said.