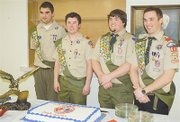 GRANDVIEW - It was a long wait for some of them, but four young men were given the recognition they deserve in an Eagle Court of Honor last Saturday in Grandview.
Receiving the award, the highest available in scouting, were Joshua Bardell, Christopher Denchel, Nicholas Denchel and Devlyn Tobin of Boy Scout Troop 643. The Grandview troop has served the Yakima Valley for more than 80 years and now has produced a total of 42 Eagle Scouts.
Bardell waited the longest to receive the honor in an official court. He earned the award in 2005 with a service project at the Grandview Senior Center. He designed and installed a new horse shoe pit that was used regularly until last year, when it was removed for new construction.
Christopher Denchel earned his award in 2007 by designing and building mileage markers along the Lower Valley Pathway between Grandview and Prosser. He stated that he continues to use the path and sees his own handiwork on a regular basis.
Devlyn Tobin earned his Eagle badge in 2010. He designed and built a flag pole honoring veterans at the Kiona-Benton High School Stadium.
Nicholas Denchel, Christopher's brother, earned his award in 2011. He designed and built a new sign for Legion Park in Grandview and a new memorial for Gold Star Mothers.
The men had their awards pinned to their uniforms by their mothers, and then pinned honor badges on their parents and on the person who had most helped them on their path to becoming an Eagle Scout. All four headed toward Scoutmaster Tim Bardell at first to present him with that honor, earning a laugh from the crowd.
During their speeches, the new Eagles emphasized the help they had received and the knowledge they had gained on the trail to their award. They also pointed out Nancy Davidson as someone who had helped them to earn merit badges.