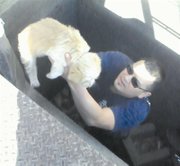 Sunnyside firemen rushed to the aid of a fallen puppy last Thursday, March 22.
A resident phoned in to the fire department concerned for his small puppy that fell into a weir box in the 1300 block of South Ninth Street.
Firemen say it took about 30 minutes to safely return the dog to its owner.
In addition, firefighters have responded to an agency assistance request and nine calls for aid since last Thursday. Of the calls for aid, five people were transported to Sunnyside Community Hospital. Of the patients at the hospital, four were transferred to other area facilities.