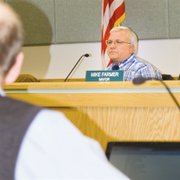 Standing up toward the end of last night's meeting, Pete Sartin told the Sunnyside City Council that the city had become a laughing-stock due to the council's actions.
"If I could hook on to my trucking company's buildings and take the land with me, our cold storages and take the land with me, I would move them out into the county," said Sartin. "My house would go with them."
The comments came at the end of a raucous meeting that started with hope and promise and ended with accusations, shouting and council member Nick Paulakis tendering his resignation from the council.
Early in the meeting, students from the Sunnyside High School leadership program gave a presentation on the efforts of the students to foster strong character in local youth, and how they wanted to expand the program into the community.
At the end of their program, the students presented every member of the council with "Respect" bracelets, the reward given for demonstrating respect in action.
The good will lasted through most of the regular agenda, until nearly the end of the meeting when council member Don Vlieger pulled out a letter to present to the council. Council member Theresa Hancock protested the handout, pointing out that the council had already agreed to not to give out last minute materials and that all such materials should have been included in the original packet.
Her objection was denied and Vlieger continued, presenting a complaint about Hancock's recent actions regarding the council's executive sessions.
Vlieger stated that during the executive session in question, Hancock had been given the opportunity to take the discussion public, but declined the offer. Hancock made a point of order, disputing the factual nature of Vlieger's statement. The point of order was denied by a 4-3 vote.
Vlieger continued his presentation, reading out possible penalties for a council member violating RCW 42.23.070 (4) which covers the disclosure of privileged information by a public official. Vlieger read out a list of penalties, including a $500 penalty, other civil or criminal liability or penalty and forfeiture of his or her office.
"Her actions were wanton, deliberate and malicious," said Vlieger. "She knew she was violating the law."
He stated that the council must take action, or else the problem will happen again in the future.
"If we fail to hold our own members accountable to the law and to their oath, how can we ask our city manager to hold other public employees accountable?" he asked.
Vlieger then said he would introduce two motions sanctioning Councilwoman Hancock for her actions. The first would be a formal censure of Hancock. His second motion would be the imposition of a $500 fine on Hancock.
"I want to stress I take no pleasure, personal or political, in making these motions," Vlieger said.
He then stated that if Hancock apologized and pledged to work within the law and with the council he would not forward the motions.
After this statement, Paulakis asked Vlieger if the issue had been discussed with any city council members outside of the current meeting. Vlieger responded that he had discussed it with council members Jason Raines and Craig Hicks. Hancock interjected that he'd also discussed it with Mayor Mike Farmer.
The implication was that four council members constitute a quorum, and that such a discussion would violate the Open Public Meetings Act.
Mayor Farmer stated that he had not seen the document Vlieger presented to the council before, but did not answer the question of whether or not the issue had been discussed with him.
The audience at this point began to call out, and Farmer attempted to restore order. The remainder of the meeting was punctuated with out of order comments from both the public and from other council members.
Paulakis again made a statement, but this time he stunned everyone.
"I am hereby handing in my resignation from city council," said Paulakis, inspiring a massive outburst from the crowd and other council members.
"At school I put up with juvenile behavior all day. And when I come and want to be around adults, I actually expect that would happen." he continued "Obviously I'm wrong."
He condemned the attacks, saying, "I don't want to be a part of this."
At Paulakis' statement, members of the audience stood up and shouted, and the mayor again attempted to restore order.
Council member Jim Restucci asked Paulakis to not resign, saying that he'd considered resigning as well.
"There are businesses around this town that are looking at us and saying, 'What is wrong with that dysfunctional council?'" said Restucci, to audience applause. "They don't want to do business in Sunnyside because of it."
Vlieger took the floor to also ask Paulakis to stay, stating that the last paragraph of the letter Vlieger earlier presented to the council said exactly what Restucci had just said. Vlieger then asked the council if they thought they were owed an apology for being maligned in the Daily Sun News.
After a statement by Raines, Hancock was given a chance to defend her actions. She stated that she had checked with four different attorneys regarding her actions, including Toby Nixon from the Coalition for Washington State Open Public Government. All of the attorneys, she said, agreed that she had broken no laws and was right to bring attention to the abuse of executive sessions by the council.
She read a statement from Tim Ford of the Washington State Attorney General's Office that said that council had no authority to punish her and would have to go to court to impose a fine. She stated that members of the council were getting dangerously close to defamation of character and she would stand on her record.
At this point in the proceedings, a police officer entered the council chambers and stood at the back of the room. He was later joined by a second officer.
Restucci took the floor to note that Mr. Ford is correct, and that the council is not a judicial body. No city council in Washington state has ever fined a member, it is not the council's job, he said.
"I'll tell you right now, if we allow council to fine, based off majority rule, an individual member, I'm done," said Restucci. "I will not be here. Because I'm not going to come to a meeting where the majority thinks I've done something wrong and decides to fine me $500. With all due respect, I'm not rich and I'm not coming every other meeting getting fined 500 bucks."
Restucci said he would support a change in the council rules that would allow a censure, but would not support a censure at the meeting as it was not part of the rules.
Further argument about the legality of Hancock's action proceeded, with the city attorney being asked his opinion.
"You're putting me in a very uncomfortable position," said city attorney Scott Beyer. "If I were to advise the council on this issue, I'd strongly recommend that occur within an executive session."
Hancock stood by her actions, stating that she had a first amendment right to release information to the press.
"Any time you violate the public's open public meeting act, I will go to the press again," said Hancock.
"I will not give up my first amendment rights to go to the press," she said. "If I think you have broken the public's trust then it is incumbent upon me to let the public know you have broken their trust. And if the public disagrees with me, then the next time I come up for election, vote me out."
Hancock noted in her seven years on council this was the first time she'd spoken out about an executive session. And the reason she said she spoke out was because the council had criticized staff members without giving them a chance to defend themselves.
"We are treating staff like they are dogs around here, and I'm tired of it," she said.
Vlieger asked how it was possible to hold an executive session when the information from the session could be shared with anyone at any time and council members were not accountable for keeping council discussions private.
Hancock said the council members were accountable for their own actions.
"I'll tell you, I've held myself accountable to a standard," said Hancock. "I wish you could say the same, Mr. Vlieger. I would gladly resign if you would also resign because I think you are a big driver of the problems in this community."
Restucci noted that the council was at an impasse and suggested the council bring in an attorney during executive sessions.
"I'm not trying to bring council together to sing 'Kumbaya'," said Restucci. "Because that's not going to happen."
Beyer did not recommend that an attorney be present at every executive session, but said the firm could make an attorney available for the council at need, given notice.
Farmer noted that the subject had been beaten to death, and Sartin approached the podium and asked permission to address the council. He started with a question about the legality of hiring an interim city manager outside of the city then stated that he was upset the council had not hired Mark Gervasi as interim city manager despite his offer to take the role.
Vlieger and Hancock got into another dispute, with Vlieger claiming that Hancock hates his guts. Hancock asked Vlieger to not put words into her mouth. Vlieger cited people who had told him about it.
"Hearsay is not appropriate for this dias," responded Hancock.
Sartin then made his comments about leaving the city.
Former city councilman and dentist Jim Stevens approached the podium and asked permission to speak. Permission was granted, and he indicated that the council was doing a good job and complimented new interim city manager Frank Sweet. He also called out Hancock for what he referred to as "smirking" and scolded the mayor for not keeping control of the meeting.
As the meeting had reached its three-hour limit and no council member wanted to continue the arguments, the council voted to adjourn.