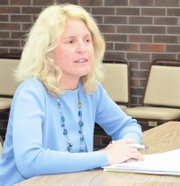 GRANDVIEW - The Grandview City Council last night approved an amendment to the city's 2012 budget, increasing appropriations for fire department equipment, library wages and benefits, and appropriations for the newly constructed community center.
The city received a FEMA grant, according to City Treasurer John Myer. That funding has been added to the city's EMS fund, amounting to an $8,500 increase in revenues and expenditures for the purpose of purchasing new equipment.
The city received more than $20,000 from Yakima County's law and justice taxes. The monies have been added to the city's law and justice fund, but it is also anticipated the money will be spent.
"There's a minor adjustment to the salary and benefits of library staff," said Myer, stating the adjustment was made to accommodate the end of a probation period wage.
The city council earlier approved the close-out of a Community Development Block Grant used for constructing the community center. Not originally included in the construction was an expansion to the center's gym and acoustic tiling.
Myer said the city transferred money from its current expense and capital improvement funds for those construction changes. However, he anticipates Washington state will refund approximately $55,000 to the city with the close-out of the project. Those funds will be used to replace money transferred from the current expense fund.
"Most of these changes are housekeeping items," said Myer.
Councilman Jesse Palacios asked Myer how long it will take before the state refunds the money from the community center project. Myer told him the city should receive the refund by the end of April.
The street fund was also adjusted to account for grant funding that will be utilized for several road projects this year.
The Grandview City Council approved the amendment unanimously.