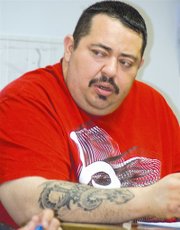 Sparked by Eric Amaro's two first-place finishes, the Sunnyside Grizzly boys track team captured top honors during its only home meet of the season yesterday, Tuesday.
The Grizzlies posted 70.5 team points to narrowly best Prosser's total of 63.5 points. The third team at yesterday's meet, Hanford, tallied 16 points.
Amaro earned first place honors in the 110 hurdles with a time of 16.12. Sunnyside teammates Elijah Pena and Lorenzo Carbajal were second and third in the event with respective times of 16.44 and 18.11.
"Amaro's time in the 110 hurdles was very impressive," said SHS Coach Darren Mezger.
Showing his versatility, Amaro then competed in the javelin, where he recorded a first-place throw of 148-1. Teammate Sergio Lugo was fourth in the event with a mark of 122 feet.
Amaro was also second in the discus with a throw of 112-1. Hanford's Cody Quinton captured top honors in the event with a mark of 148-3.
The junior wasn't done yet, as Amaro also posted a second-place effort in the long jump with a leap of 19-1.
Eduardo Salmeron of Sunnyside grabbed top honors in the long jump with a mark of 19-3, while teammates Brandon Daley (17-10) and Marcus Sanchez (17-3) finished in third and fifth place, respectively.
Other first place finishes for the Grizzlies included Reyes Cuevas posting a top time of 53.83 in the 400, Juan Reynoso breaking the tape at 2:09.92 in the 800 and Pedro Zagrera vaulting to a top mark of 10-6 in the pole vault. Sunnyside's Joaquin Bustamante was fifth in the pole vault with a mark of 8-6.
The Grizzly 4x400 relay team of Audiel Sanchez, Reyes Cuevas, Eduardo Cuevas and Emmanuel Torres claimed first-place honors with a time of 3:44.48
Sunnyside also received a gold performance from Elijah Pena, who claimed first place honors in the 300 hurdles with a time of 43.8. "Elijah continues to be really solid. For a sophomore he's extremely impressive so far," said Mezger.
Also in the 300 hurdles, Sunnyside's Alvin Lopez (44.85) and Lorenzo Carbajal (47.56) were second and fourth, respectively.
Cody Quinton148-03HANF12Cody Quinton148-03HANF12 Also of note for the Grizzlies were Eric Espindola and Manuel Dimas, who were second and third, respectively, in the 3,200 with times of 11:22.75 and 11:35.46. The event was won by Prosser's Bradley Buttars in 10:56.65.
Sergio Lugo claimed second place honors for Sunnyside in the triple jump at 38-9.5. The event was won by Prosser's Riley Haringa with a leap of 39-9.5.
Grizzlies Valentin Trujillo (37-4) and Juan Peralta (36-5) were third and fourth, respectively, in the shot put, which was won by Hanford's Cody Quinton with a mark of 41-5.
"Our boys competed well," Mezger said of the Grizzlies' effort. "We're showing to a lot of people in the league that we can step right in there and compete with anyone."
Sunnyside's track team opens league competition at Hanford tomorrow, Thursday, where the Grizzlies will take on the host Falcons and Southridge.