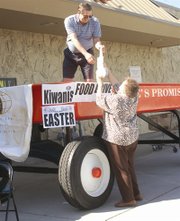 The Sunnyside Kiwanis Club is planning its annual Easter food drive for this Saturday, March 31 beginning at 8 a.m.
The drive will again be held at the Sunnyside Safeway store where the club will have the Sunnyside's Promise wagon set up to accept food donations. The goal is to fill the wagon with non-perishable food items that will help the Sunnyside Food Bank replenish their supplies for the Easter holiday.
The club recognized that so often the food banks get an influx of local donations during the Christmas season but not other times of the year.
Community members are encouraged to dig deep and donate their items at Safeway this Saturday in hopes of filling the wagon.