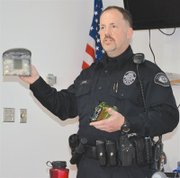 GRANDVIEW - The Akins family annually organizes the Sage Rat Run, a fundraiser that benefits several charities.
The event was originally organized by Gabriel Akins of Grandview. His parents, since he is away at college, are this year helping to organize the event.
Last year enough funds were raised that local law enforcement officers were yesterday presented with trauma kits used for treating gunshot wounds in the field.
Called ResQ Kits, the packs are able to be carried by officers. When one is shot in the line of duty and emergency personnel are unable to reach the officer, he or she can treat their own wound. Their comrades can also use the kits to treat the wound.
Mike Akins, a police officer in Grandview, told officers present for training on field treatment of gunshot wounds those who volunteer for the Sage Rat Run will be provided the first of the ResQ Kits.
"So, I encourage you to volunteer this year," he said, telling the officers the 2012 event will take place on May 19.
The cost for each pack is just less than $100. Partnering with the Akins family to acquire the packs is the Prosser Memorial Foundation.
"The goal is to have personal kits for all Yakima and Benton county law enforcement officers," said Akins.
Fred Lamb of the Prosser Memorial Foundation told the officers the contribution is a way to give back to the community.
He said Prosser Memorial Hospital operates EMS services in Grandview and Prosser. As a result, it is known emergency personnel cannot always get into a crime scene, especially when bullets are flying.
"We want officers to be able to stabilize a gunshot wound in the field," said Lamb.
Any time a kit is used, he said, the PMH Foundation will replace it.
Dr. Joe Bobovsky of the Yakima SWAT team provided the officers with the field treatment presentation.
He said, "The purpose is to provide officers skills for treating themselves and their fellow officers in the field."
The third annual Sage Rat Run is now in the planning stages for 2012. Early registrations are due Tuesday, April 10.
Volunteers and donations are still needed, according to Terri Akins.
To find out how to help, visit sageratrun.com.