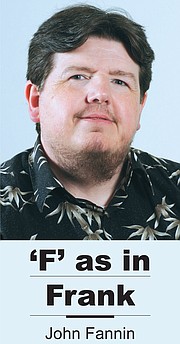 The mayor begged for order and police were called in for security purposes during the Sunnyside City Council meeting this week.
The public is by and large unhappy with council's actions in bringing on an interim city manager when the current one was willing to stay on as an interim.
There are other issues at play, with citizens feeling their voices aren't heard by the four-man "cartel" on the city council.
Their voices were heard loud and clear at the council meeting on Monday night. So loud that they could be heard over the recording of the meeting I listened to on the city's website.
Members of the community at the meeting not only raised their voices, but rose to their feet in protest of centrist Councilman Nick Paulakis' announcement that he would like to resign.
City officials apparently felt so threatened by the crowd's response that storm troopers were called in.
I, a Sunnysider, understand the frustration with the city's government.
But yelling and storming the Bastille at a council meeting isn't going to change the status quo.
Here's what can change the situation: a quiet riot. Not bombast or vitriol, but a simple recall election.
RCW Chapter 29A.56 discusses recall elections and notes you can't recall an official because you don't like them or have voter's remorse over electing them.
However, council members and other elected officials can be recalled for "malfeasance," or any wrongful conduct that affects, interrupts or interferes with the performance of official duty. It also means the performance of a duty in an improper manner.
Would conducting an illegal discussion during executive session be malfeasance? It sure seems like it.
What about discussing a city-related issue in private with three other council members? That sounds like a violation of the open public meetings act...which could also be malfeasance.
The point is, we have council members who have apparently done those very things recently.
The process for holding a recall election has several steps and, very briefly, they include bringing an official charge and then gathering signatures of registered voters. The total number of signatures gathered has to be at least 35 percent of the number of votes cast in the election when the official was elected.
For example, Councilman Jason Raines was elected last fall and a total of 1,368 votes were cast in that particular race. Let's round it up to 1,400 and 35 percent totals 490 signatures that would be required.
Are there 500 or 600 (just to be safe) Sunnyside voters that would sign a petition seeking a recall election of Raines, Vlieger and/or Farmer? It sounds like it.
After all, 624 people voted against Raines in the last election. And fewer than 50 percent of registered voters even cast a ballot in the 2011 general election.
It would be a long process, but if successful the quiet riot of a recall election would make much, much more noise than the outburst by upset citizens in council chambers this week.