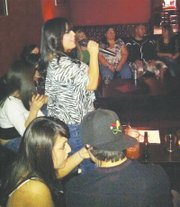 Not everyone can sing, but there are a lot of talented individuals in the Lower Yakima Valley who enjoy giving it their best shot. It's the brave souls who want to venture out for a little fun on the stage that make perfect karaoke contestants.
Sunnyside's Fuego Lounge has just the ticket. For five Thursday nights, beginning April 5, anyone who enjoys picking up a microphone to sing along to some tunes is urged to participate in the local establishment's contest.
Prizes will on May 3 be awarded to the two finalists. The first place prize will be $400 and a $100 Fuego gift card. The runner-up will receive $100 and a $50 Fuego gift card.
To compete, contestants must be 21-years-old or older, and they can choose from songs both in English and Spanish.
Contestants do not have to be from Sunnyside because, as stated by Marketing Manager Rosa Picazo, "Our goal is to get singing talent from all over the Yakima Valley.
The contest will begin at 8 p.m. each Thursday through May 3, the date of the finale.
"It's great entertainment and fun," Picazo said of the contest.