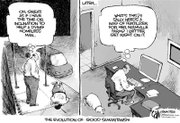 I first established my farm in 2009 and am approaching my third year in agriculture.
My farm has expanded and my crops are much more diversified than they were when I first began...that's all thanks to an application on Facebook to which I have been addicted, called FarmVille.
When I began farming the crops I could grow were limited and there were limited resources for growing them.
Now, the world of internet addictions has gained momentum and my community of farmers has expanded.
Instead of owning just one farm for produce like grapes, corn, strawberries, wheat and carrots, I have a farm in England, one on the Eastern shores of the United States, an Arctic farm and one on the coastal shores of Hawaii.
I can grow oysters, shrimp, kelp and other seafood in Hawaii. I can also grow pineapples, taro and hibiscus on my latest farm venture.
In the winter wonderland I grow holly, ice berries and other produce for the climate.
The list of crops is seemingly endless nowadays and the time it takes to care for each of the farms is ever growing.
Some days I just don't feel like working on my farm, so I allow my fields to lay fallow. I have had a few crops wither, but thankfully there is a fix for that called unwither.
When I do choose to plant my crops, I must be mindful of when they must be harvested to prevent losing them. And, it is especially important if they have been planted as a challenge for a quest.
For every quest there is a prize once it is completed.
The number of animals now available for the farms has also grown. There are more cows, sheep, horses, a variety of zoo animals and wildlife, and now sea life.
To ease the burden of caring for the animals, one can build aviaries, horse paddocks, zoos and other structures.
The farming community to which I belong has grown and we can co-op, make concoctions in our wineries and restaurants, and sell our crops at the marketplace.
Oh, how farming has changed in the past few years.
Some days, however, I just wonder how bad my addiction has grown because I have neighbors who must spend wads of money and time on the application to reach the highest levels, nearing level 300. I am only at level 114.
With so many farms I also only work on a couple at a time unless I really need to use the others for specific crops.
Yes, I am still addicted to farming. I am addicted to being challenged, but it could be worse...the crops could be real.