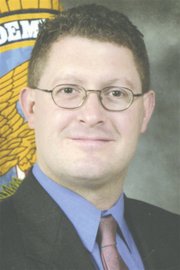 The appointment of an interim police chief is not a duty that interim city manager Frank Sweet is willing to rush.
"I need to gather a lot of information," he said. "This is a key role in the community. I don't take this lightly."
Current Police Chief Ed Radder will be retiring as of today (March 30), but Sweet is not concerned if the appointment takes a little longer.
"I'm not so sure there's a huge urgency," he said. "Deputy Chief Phil Schenck has filled in for the chief before. That's why we have a deputy chief."
Sweet cited several times the deputy chief has stepped in for Chief Radder, including a long absence due to illness last year.
Sweet said the decision will be made after consideration of the effects the interim chief will have.
"I prefer to look forward and think, 'If this happens, what will be the fallout? Will it be good or bad for the city?' and consider the results before I make a decision," said Sweet.
Once an interim chief is in place, the search will begin for a permanent replacement for Radder.
"We'll be going out and advertising the position," said Sweet.