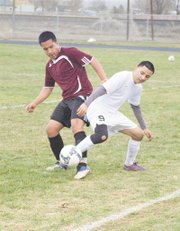 MABTON - The Mabton Vikings hosted nearby 2A Grandview last night in a non-league match.
Mabton was victorious, shutting out Grandview 3-0. It's the third consecutive match the Vikings have held their opponents scoreless.
"It was pretty intense," said Viking Coach Junior Garcia.
He said the match was full of surprises, especially because the teams remained scoreless through much of the opening half.
Mabton's Josh Carrasco finally drew first blood in the 33rd minute to give the Vikings a 1-0 lead going into intermission.
"It was good because I think (the Vikes) came out tired, but they pushed through," said Garcia.
Mabton has played five games in nine days.
Garcia said his forwards were unable to score against the Greyhounds, but they teamed up to create opportunities for other team members.
Those opportunities came in the 50th and 76th minutes of the match.
Lorenzo Sanchez of the Vikings scored on a penalty shot just 10 minutes into the second half.
With just four minutes left in regulation, Crisantos Chavez of Mabton took advantage of an open opportunity to kick the ball past the crossbars.
In shutting out the 'Hounds, "We had a couple of lucky breaks when Grandview missed a penalty kick," said the Mabton coach.
Grandview Coach Anne Holden said the Greyhounds and the Vikings have fun competing against one another.
"A lot of the players usually compete with one another in the summer leagues," she said.
Grandview had nine opportunities to score and Mabton took six shots.
Greyhound keeper Elmer Campuzano made one save before Jose Salgado relieved him. Salgado recorded two saves.
Mabton's Gerardo Barajas "kept a clean sheet," keeping the ball from making it past the crossbars on each of Grandview's attempts.
Garcia said, "It felt good to get another shutout."
Tomorrow (Saturday) the Vikings (4-1, 5-2) will host the Connell Eagles.
The Greyhounds (2-0, 3-4) tomorrow will travel to Toppenish for another non-league match-up.